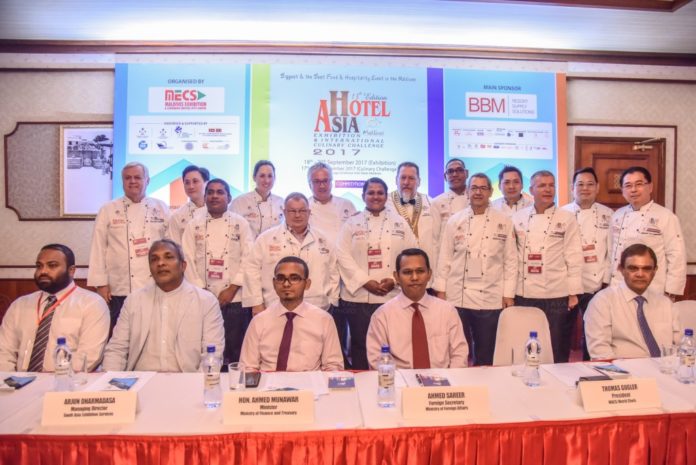 Hotel Asia Exhibition and International Culinary Challenge Maldives 2017, has been launched at Dharubaaruge Exhibition Hall. It was officially opened by Minister of Finance and Treasury Mr Ahmed Munawar. In his addressing speech, Mr Munawar highlighted the growth of the fair over the past years and its importance to the tourism industry in Maldives.
The biggest fair of its kind in Maldives is organized by Maldives Exhibitions and Conference Services Pvt. Ltd. (MECS) and the main sponsor is Best Buy Maldives (BBM). The main purpose of the fair is to provide a platform for networking and interaction between hotel industry suppliers, service providers and consumers.
In this year's fair, more than 100 exhibitors will showcase their products while over 600 participants partake in the culinary challenge. More than 80 Maldivian chefs will also take part.
The exhibition will go on from 18th – 20th September while the culinary challenge will take place between 17th – 20th September.  This is the 13th edition of Hotel Asia Exhibition Maldives and its popularity has immensely increased.