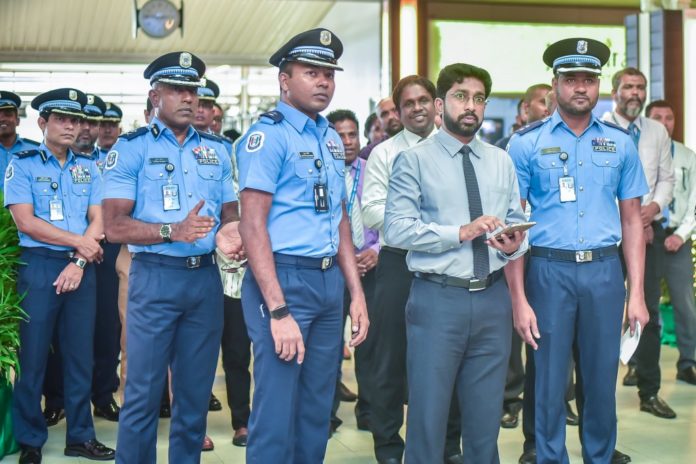 A tourist toll-free number, through which tourists can contact tourist police has been launched by Maldives Police Service. The number 1478 was launched by Home Minister Mr. Azleen Ahmed, in a ceremony held in Velana International Airport.
During the ceremony, Minister Azleen stated that this kind of developments in Maldivian Police Service would increase the significance of their service in rest of the world. He also highlighted that a large percentage of Maldivian economy depends on tourism, which is why it is very important for the different sectors and authorities to work together.  In addition, he mentioned that having the special Tourist Police to address concerns and issues of travellers from different parts of the world is a huge relief to the travellers and that it would make them feel safe. Furthermore, he said that if tourists feel safe it would coerce them to return to Maldives again and that there have been rare incidents regarding tourist safety.
The Minister also advised police to display this toll-free number in different areas of the airport, so that it can attract the attention of tourists and they become aware of it. He even mentioned the importance of these kinds of services at a time when Velana International Airport is undergoing expansion and improvement of services.
The number can be contacted free of charge from any international network. Tourist Police service was introduced in Maldives on 29 March 2009.