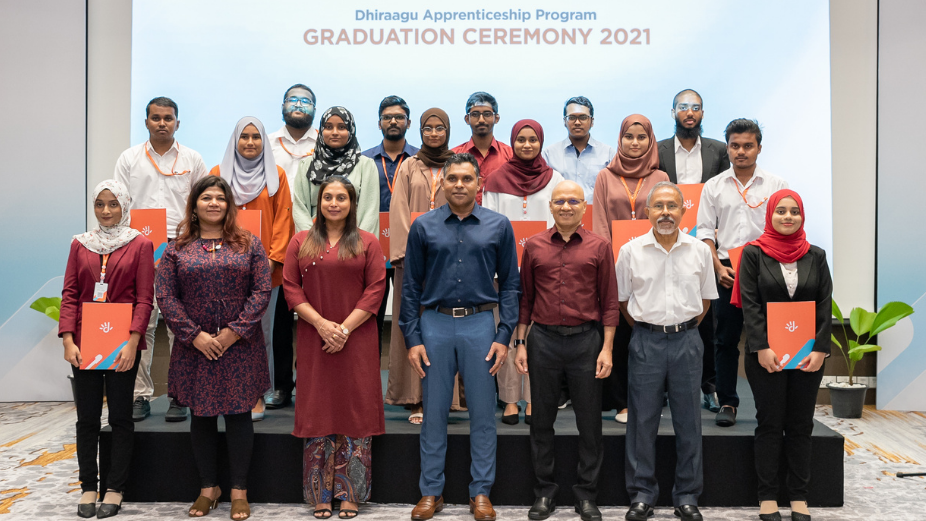 Dhiraagu celebrated 17 Apprentices who successfully graduated from Dhiraagu Apprenticeship Program at special ceremony held at Crossroads Maldives last night.
Dhiraagu Apprenticeship program is the first corporate apprenticeship program introduced in the Maldives. It is a key CSR programme of Dhiraagu with the objective to help develop employability skills in Maldivian youth. The company has been conducting Dhiraagu Apprenticeship Program since 2009 where over a total of 228 young people have enrolled in the program as of today.
Speaking at the ceremony, Chief Guest Vice President of Maldives HE, Faisal Naseem congratulated the graduates of Dhiraagu Apprenticeship Programme 2021. He noted the importance of a skilled workforce for the nation's resilience and development. He especially thanked Dhiraagu and expressed his appreciation for its Corporate Social Responsibility and for conducting this programme over the past several years towards achieving this shared vision.
Dhiraagu CEO &MD Mr. Ismail Rasheed congratulated the graduates and conveyed his best wishes. He further expressed his delight to see many past graduates of the programme establish successful careers in Dhiraagu and across Maldives, signifying how the programme continues to be a steppingstone to their development and success. He also particularly noted the importance the company places in empowering young people towards achieving sustainable goals for the company and the nation.
During the unprecedented Covid-19 pandemic in 2020, the company had a special focus to continue the program virtually. Trainings were conducted by in-house staff specialists on soft skills development, remote working and essential knowledge in areas such as time management, personal management, project planning, presentation skills, and more. In addition, apprentices are paid a monthly allowance during the program, giving them the opportunity to earn while they learn.
Earlier this year, we welcomed the 12th Batch of Dhiraagu Apprenticeship Program where 14 apprentices have been enrolled in this year's intake. During the orientation week, all apprentices were given an introduction on organisations basics, brand orientation & CSR, code of ethics, digital transformation, health and safety awareness session among others.
Dhiraagu continues to enrich lives of the future corporate stars by giving them the opportunity to develop their skills through intense on-site training and under the guidance of highly qualified management team. Through this program, Dhiraagu continues to enrich the lives of the youth and develop future leaders.