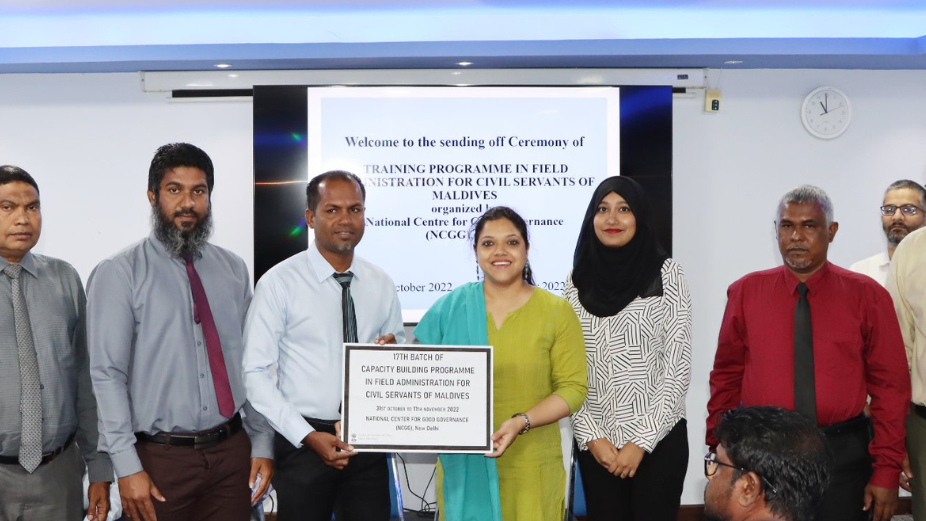 On 26th October, a sending-off ceremony was organised at Civil Service Commission of Maldives for the 17th batch for customised "Capacity Building Programme in Field Administration for Civil Servants of Maldives" from 31 October to 11 November 2022 at National Centre for Good Governace (NCGG) New Delhi and Mussorrie.
The MoU between CSC and NCGG was signed in June 2019 during the State Visit of PM Narendra Modi to the Maldives. With 17th batch, more than 530 Maldivian civil servants have undergone training under this MoU. The participants in various batches are civil servants from Ministries, Atolls & Islands Councils, Health Centres, Schools, etc.
This 2-week training programme would commence would included topics like total quality management, performance management, stress management at work, public private partnership, SDGs, public grievance redressal mechanism etc. apart from visiting Delhi Metro Rail Corp., Indian Parliament, AIIMS, PM Museum, Delhi Heritage, and Taj Mahal as part of field visit.
During recent visit of President Solih to India, in August 2022, both the leader noted with satisfaction that capacity building and training had emerged as a key pillar of the bilateral partnership in the past few years.
The engagement between NCGG and CSC is a successful example of India-Maldives Capacity Building Cooperation.
The maldivian civil servants are also participating in various GoI's fully funded training programme being offered under ITEC scheme (both physical and e-ITEC).