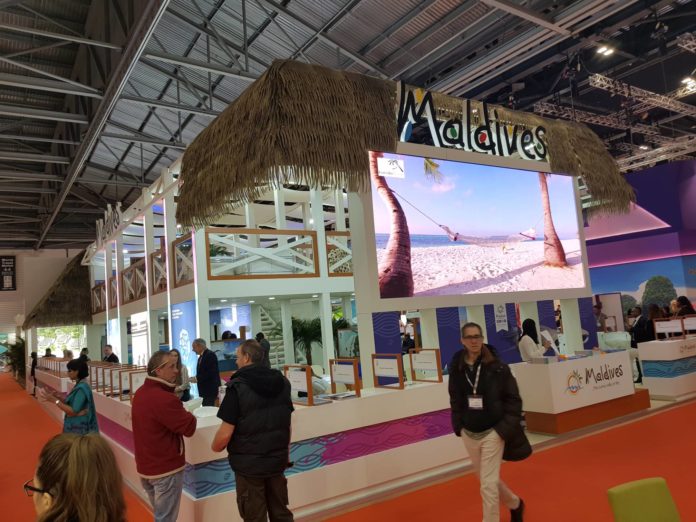 Several exhibitors including resorts, hotels, guesthouses, travel agencies, associations and airline operators are representing Maldives at the World Travel Market (WTM) London 2017. According to Maldives Marketing and Public Relations Corporation (MMPRC), 195 representatives from 70 companies are present at this year's WTM which will be held from Monday to Wednesday. WTM London 2017 was officially launched on 6th November and will go on until 8th November, at the ExCel London exhibition and international convention centre
Official Delegation from Maldives includes Attorney General Mohamed Anil, Maldives ambassador in the UK Ahmed Shiaan and MMPRC chairman Mohamed Khaleel and Acting Managing Director Haris Mohamed.
This year, the Maldives is being represented at a double storey stand on an area of 276 square meters. Design of the stand is striking modern style that showcases the exquisiteness of the island nation. Also, the stand structure has been enhanced to accommodate the increasing number of participants. Importance of the fair to the travel industry in Maldives is increasing each year, along with the participation of exhibitors.
During the three-day event, the travel industry comes together as almost 5,000 exhibiting destinations, technology and private sector companies gather to find and network with 51,000 travel professionals, key industry buyers, journalists, digital influencers, students and tourism ministers.
Meanwhile, different kind of travel related events held in Maldives has also increased lately. This year at WTM, Travel Trade Maldives (TTM), the only international travel trade show in Maldives exclusively dedicated to selling the country will be promoted to potential participants. Held for the first time in 2017, the event turned out to be a huge success with over $1 billion worth of contracts been discussed over the span of two days of TTM. TTM 2018 will be held from 1-3 May 2018 and will feature Hoteliers Summit, Maldives Dive Expo, Guesthouse Maldives Expo and other engaging, networking and information sharing sessions held for exhibitors and participants.