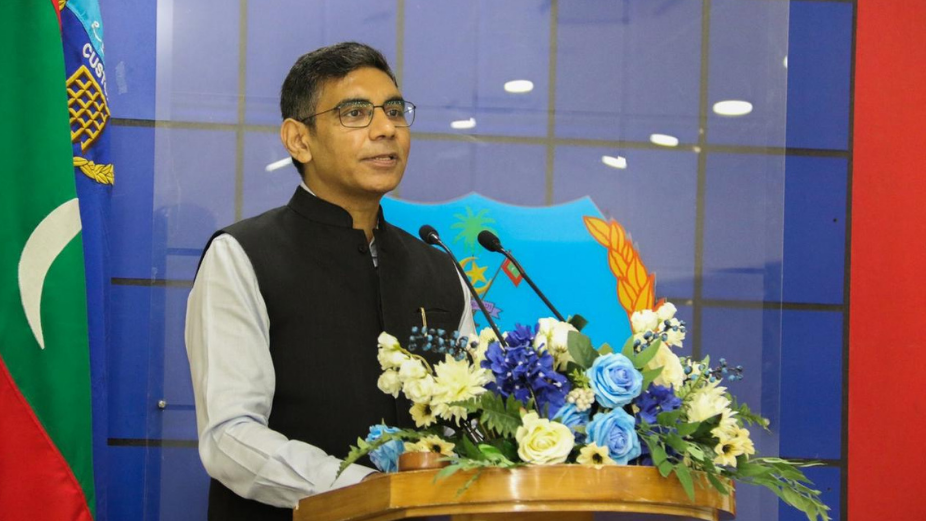 On 5th May 2022, a sending-off ceremony was organized at Maldives Customs Service (MCS)'s "Customs Building" for 20 supervisory-level MCS officers going to India for an exposure visit being organized by NACIN Mumbai from 9-13 May 2022. The visit is under the "India-Maldives MoU for cooperation in Customs' capacity building", which was signed during the State visit of PM Modi to Maldives in June 2019.
During the ceremony, Mr. Abdulla Shareef, Commissioner General of  Customs emphasized the importance of such capacity building programs in upgrading the skills for better and efficient delivery of services. 
High Commissioner Mr. Munu Mahawar in his remarks mentioned the training and capacity building as a key pillar of India-Maldives partnership. He conveyed happiness that the customized training programs have been designed on the requirements indicated by MCS. He motivated participants to learn by gaining and sharing knowledge & experiences.   
"India-Maldives MoU for cooperation in Customs' capacity building":
The MoU is being implemented with several batches of MCS officials being trained in India in 2020 & 2021 by Central Board of Indirect Taxes and Customs (CBIC)'s National Academy of Customs, Indirect Taxes & Narcotics (NACIN). The training programs are customized according to the training requirements indicated by MCS. Around 80 MCS officials have been trained in India. During the COVID19 pandemic, online training programs were also held.
In the year 2022-23, various other customized visits / training programs have also been planned in areas like "Cargo profiling and Risk Management", "Customs Induction Training Program", "Intelligence information & Investigation", "Drug Law Enforcement". Around 120 MCS officers will be trained under these programs.