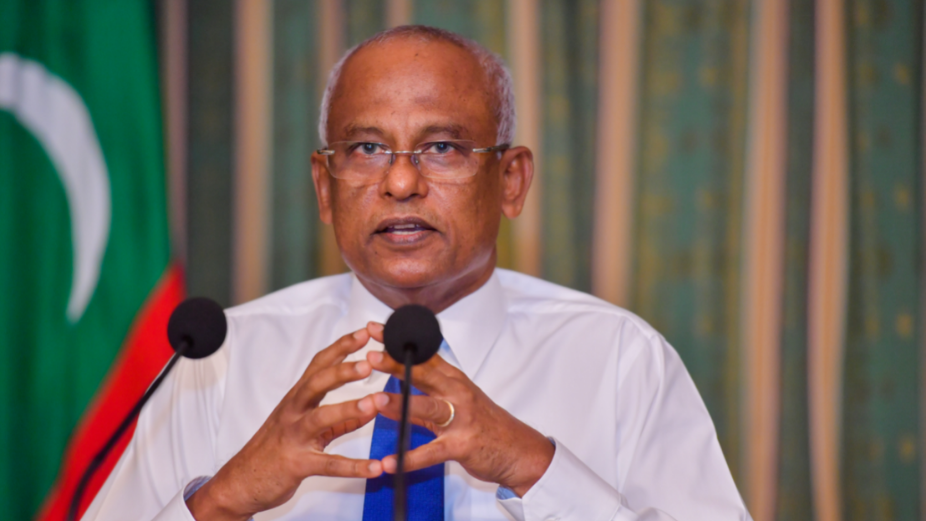 President Ibrahim Mohamed Solih, on Tuesday night, reassured the public that countering the impacts of the pandemic is his administration's current top priority and that all necessary government resources would be utilised to ensure public safety. The President made this remark while virtually briefing the local media on the most recent updates and measures enforced to curb the sudden surge in Covid-19 cases.
In his statement, President Solih noted how this month had been particularly devastating as there were more Covid-19 deaths recorded in May 2021 than the combined number of all Covid-19 deaths in 2020. The President said that the sudden rise in numbers is alarming and that additional safety measures are necessary to minimise further loss.
The President gave details of new restrictions to be enforced starting 26th May 2021, which includes a curfew from 4 p.m. to 8 a.m. and the requirement for a special permit from the Maldives Police Service to go outside during the non-curfew hours. He reiterated the importance of restricting movement and stated that the Maldives Police Service and Maldives National Defense Force would be working together to enforce these measures.
Acknowledging that the new restrictions would cause difficulties, especially to small businesses, the President announced further government initiatives to ease these burdens by offering financial aid and considerable deductions on utilities. The utility deductions include a 30% discount on water bills for all households and a 20% discount for all businesses. He further announced a 40% discount on electricity bills for all households and a 20% discount for all business. These discounts are currently applicable for the month of May. The government would also be offering financial aid in the form of relief loans to small businesses, and stimulus loans via the Bank of Maldives would also be announced in June. The President also revealed details of vaccine stocks, and agreements made with India, Singapore, China, Russia and the World Health Organisation to acquire more vaccine doses.
President Solih also thanked all health workers and frontline staff who had worked fearlessly on the forefront of the pandemic, as well as all volunteers and all other essential workers who had been working tirelessly since last year. The President stated that he was hopeful that we could return to normalcy quickly after the new safety measures are fully enforced.
During tonight's press conference, the President answered questions from the media. He was joined by the Minister of Health, Ahmed Naseem, and Dr Nazla Musthafa on behalf of HEOC.