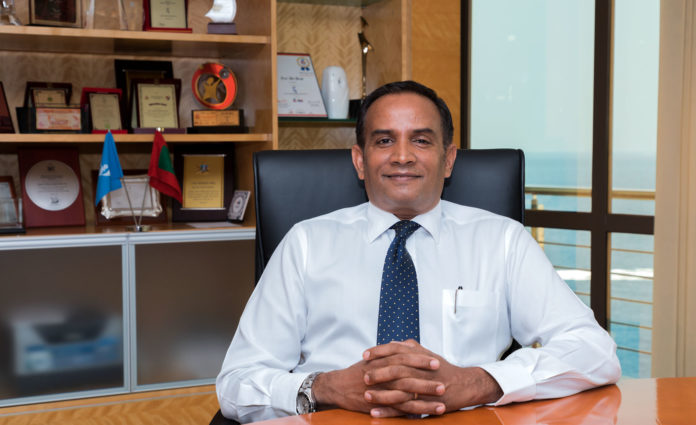 by Ruba Ali
Mr. Ahmed Shaheer is the Managing Director of State Trading Organization (STO), the largest trading company in the Maldives. Having begun his career at STO almost 21 years ago, Mr. Shaheer was active at a managerial level at various departments at STO such as Procurement, Sales, Repair and Maintenance and even Legal before being promoted to Managing Director.
Corporate Maldives sat down with Mr. Shaheer to discuss how his career at STO began, the different challenges he faces on a daily basis and reasons why he thinks STO stands above the rest. 
How did you get started?
My first job was as a project officer in the Foreign Investment Development department at the Ministry of Trade and Industries, now referred to as the Ministry of Economic Development. I played an active role in some significant projects such the establishment of Maldivian Air Taxi, and the 'Shell' company exploration project. I was very lucky to have worked in the trade ministry with efficient and progressive leaders, such as President Yameen, who was the trade minister at that time, and Ahmed Naseem, who was the Minister of Foreign Affairs. I consider them my mentors, and they are responsible for my success today.
I earned a scholarship to complete my Bachelor's Degree in Business Administration abroad, and also completed Master in Business Administration (MBA) at University of Adelaide, Australia. When I returned, STO was being restructured and major changes were being planned for improvement. I was offered the position of Head of the Business Development department, and I accepted because I considered it an incredible opportunity to be a part of the reformation of the largest trade company in the country.
What would you consider as successes?
When I first joined STO, it was during a restructuring. The objective was to examine the different markets, do research and determine how to add more value and give our customers better prices for the products that they needed, and successfully attaining this goal is my greatest accomplishment.
The Construction industry, for example, was booming and yet, was stunted due to the high price of cement. We observed and identified this need, and signed a joint venture with industrial giant Lafarge. It was a huge challenge and we were told by several parties that it was not possible, but we succeeded. Back then, the price of a cement bag was MVR90. Because of STO, this price has gone down to approximately MVR50 now. Our brands are both recognized and trusted nationwide.
Another similar product was cooking gas. STO made the decision to bottle cooking gas at a time when wooden or kerosene stoves were being used commonly when we realized that gas was a safer and more affordable option. Now, every household in the country can get Maldive Gas.
What are some of the challenges you have faced?
STO is a government company, but also a public limited company. We have stakeholders who continuously demand the highest return and simultaneously, as a government company, our perpetual objective is providing improved prices and services to our public. Balancing these two diverse goals is a challenge that we must constantly endeavor to overcome. It is a delicate balance that I am happy to say we have achieved.
STO's main mandate is energy security and food security. Fuel is an especially vulnerable market; entire economies have collapsed from not being unable to absorb the shock of fluctuations to fuel prices. STO must constantly observe and cushion these blows in order to protect the local market and the economy.
Due to the geography of our country, the logistical difficulties are both obvious and vast. Our products getting delayed, like cement, for example, could delay entire projects. Filling the gap on foreign currency is another challenge, as our inflow is in MVR yet our outflow is USD.
STO is, in essence, a holding company, with multiple subsidiaries such as Maldive Gas, Allied Insurance, and FSM. As the Managing Director of the holding company, one of my daily challenges are the decisions that I have to make at an executive level, which has a tangible influence on many different livelihoods and markets.
What do you do differently?
We take pride on being considered trendsetters in the markets we operate in. Some examples are the Hire Purchase Schemes, which we began. It was a game changer and generated entirely new market trends. Another example is customized products options, such as paint mixing, which was also initiated by STO and is now implemented throughout the country by different companies.
We also focus on environmental and social issues, and we pay special attention to CSR projects. We are always actively involved in sports, youth and regional community development. We also support several NGO's, and actively support women's empowerment in both our company and in the community.
STO is considered throughout the country as one of the best companies to work at. Our staff is a very important asset to us and as such, we pay special attention to staff training and development, benefits including bonuses, recreational clubs, and wellness programs. The bottom-line is that our staff is the essence of our success, and we always strive to keep them happy and motivated.
I would like to point out that STO has created a benchmark for best practices and good governance in the Maldives. We adhere to all CMDA codes, but we introduced corporate governance before CMDA with a corporate governance code for STO's entire group of companies. It's also important to note that 90% of STO's Executive team and Board members and subsidiary board members have completed the ICDS directors program.
What is your advice for the young MD's and your hopes for the future?
STO is one of the most successful trading companies in the Maldives, but to continue to be a success we have to make sure that we, and all our subsidiary companies, continue to act as role models and benchmarks for our respective markets.
I personally feel very lucky to be in my position, to be at the forefront of change and evolution within Maldives. My personal opinion is that the young generation today is extremely intelligent and innovative, and can utilize this to be self-motivated and productive leaders. When I look to the future, to when I complete my tenure, I would like to see the younger generation continue to lead us in inventive and dynamic directions.