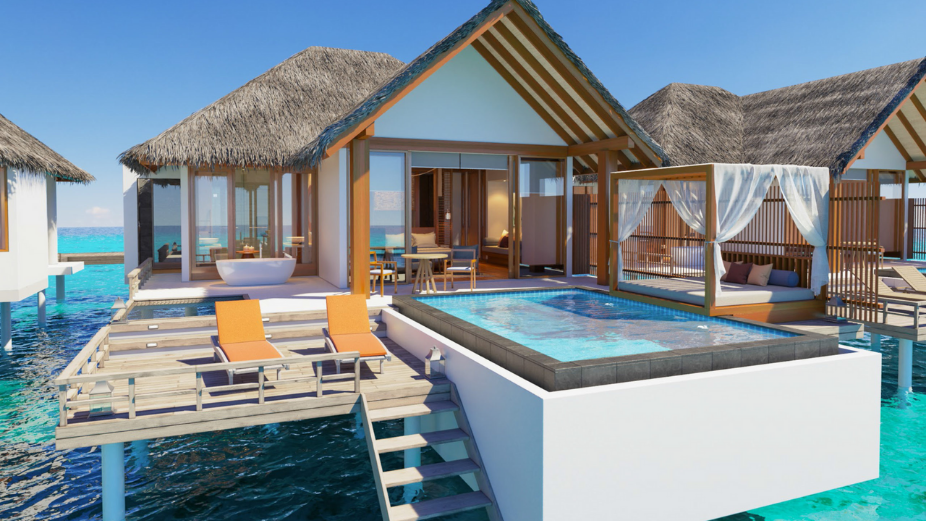 True Maldivian experience, adrenaline-pumping adventure, unmatched luxury and unparalleled tranquility with the very best of nature; Furaveri Maldives offers an escape like no other.
While the reasons why you should visit Furaveri are endless, here's a brief glimpse into what makes this resort so truly special.
1. The Beauty of Mother Nature
As you gaze upon the island, you will see a tropical 23-hectare natural and un-reclaimed island with lush green vegetation. The white sandy shores surrounding the island with turquoise waters reflect the beauty of mother nature at its best.
Furaveri Maldives is situated in the exotic Raa Atoll near "Hanifaru Bay" a UNESCO biosphere reserve. This sanctuary is just a mere 45-minute scenic seaplane ride from Velana International airport. The very spacious 168 villas offer uninterrupted privacy and indulgence.
2. Sanctuary for Wellness
At Furaveri Maldives, you will get to create a balance for your Body, Mind and Spirit in its Wellness Village to achieve the highest potential of well-being for your health. You will find yourself in a serene world of delicate scents with a comprehensive range of facilities set in a beautiful rustic-looking Wooden & Bamboo interior. Each village pavilion is set within lush gardens, surrounded by gentle white shores, tropical life and nature.
Featuring a Spa with 8 Treatment Pavilions (4 open-air pavilions and 4 air-conditioned pavilions with open-air shower & bathtub, Pedicure/Manicure Room, Beauty Salon, Hydrotherapy (Steam, Sauna Hot and Cold plunge pools), Relaxation Areas, Outdoor Badminton & Tennis Court, D'LAZZATH Wellness Café and more, Furaveri's Wellness Village represents a Spa and holistic wellness sensibility that is both pure and personal.
3. Adrenaline-Pumping Adventure
The professional Fun Water Sports Team offers a wide array of motorized and non-motorized activities to experience the refreshing waters of Furaveri Island.
Whether it is a snorkeling excursion to discover a nearby coral garden with its vibrant marine life, or a romantic catamaran cruise while the sun slowly sets and turns the surface of the Indian Ocean into golden shades, indulge in an incredible water sports experience to be enjoyed with the family or friends.
4. A Taste of Maldivian Culture
Get the chance to discover this unspoiled paradise and its people. Hailing from the belief of recreating the values of traditional Maldivian hospitality, the 'art of listening' is at the core of the Furaveri team in offering the best possible experience for you.
Guests can also discover the culture and traditions of the Maldives by choosing from a wide range of exciting excursions such as a visit to the local Maldivian island Meedhoo.
Add an escape to this safe haven for your next tropical adventure to see the extraordinary nature, adventure, wellness and culture. Truly the one island that'll surely end up offering you many memories.
For more information, visit http://furaveri.com/