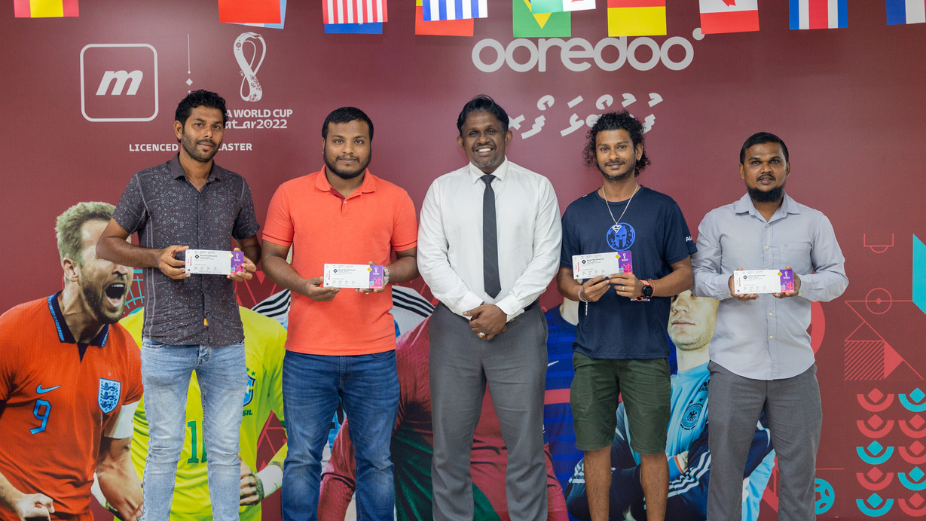 Ooredoo Maldives has officially handed over the tickets to the four lucky winners of the Ooredoo Football Foari Lucky Draw to watch France vs Morocco semi-final match of the FIFA World Cup 2022 live in Qatar.
This special lucky draw was open to all existing and new Ooredoo customers, including SuperNet & Postpaid customers, customers who made Prepaid recharges, Ooredoo bill payments, shopped via Moolee or transacting customers of m-Faisaa services from 2nd August till 31st October 2022.  
The grand lucky winners were initially chosen on 7th November 2022 and a redraw was taken on 12th December 2022 due to the unavailability of the initial winners to travel. The final Grand Lucky Winners travelling to Qatar are Prepaid customers Mohamed Abdul Satthar, Ahmed Mauroof, Ahmed Shiham and Postpaid customer Hafiz Saeed. The lucky winners will get return ticket to Qatar, accommodation and stadium ticket to watch France vs Morocco semi-final match. The winners will be staying in Qatar 4 days and 3 nights enjoying the festivities of FIFA World Cup 2022 and explore the beautiful culture and Dhoha City. 
The Lucky Draw was one of the many activities and special offers launched under the Ooredoo Football Foari campaign that aims to enable an enjoyable and colourful World Cup experience for people across the nation. In addition to the lucky draw, Ooredoo Maldives launched a special song together with their Brand Ambassador Habeys Boduberu to further hype the football fever. To engage with the children Ooredoo also hosted an evening of football fun at Artificial Beach. To further enhance the experience and enable more people to enjoy the FIFA World Cup matches, Ooredoo Fanzones were established in every inhabited island of the nation.