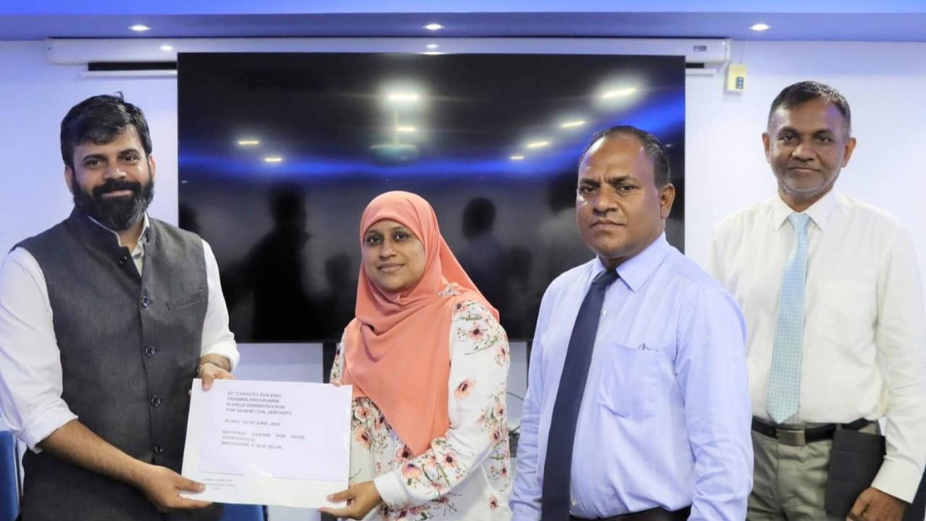 On 26 May 2022, a ceremony was organised at Maldives' Civil Service Commission for the 12th batch of Maldivian civil servants who will visit New Delhi and Mussoorie.
A group of 40 Senior Civil Servants headed by Ms Zeeniya, Permanent Secretary, Ministry of Planning, Housing and Infrastructure are scheduled to attend the customised "Capacity Building Programme in the Field of Administration from 30 May to 03 June, 2022 conducted by the National Centre for Good Governance (NCGG).
Deputy High Commissioner of the High Commission of India Mr. Rohit Rathish attended the ceremony along with President Civil Service Commission.
Deputy High Commissioner in his remarks expressed his happiness on the composition of delegation who are from various atolls and ministries with a good level of female participation too. He also mentioned that while overall its the 12th batch of civil servants, this is the 2nd batch of Senior Level Civil Servants comprising Secretary Generals of Local Councils and Permanent Secretaries. The civil servants will be exposed to e-governance mechanisms, leadership paradigms and the functioning of independent institutions in India. He thanked the CSC for its cooperation in the smooth implementation of the MoU.
The MoU between CSC and NCGG was signed in June 2019 during the State Visit of PM Narendra Modi to the Maldives. Until now, more than 350 Maldivian civil servants have undergone training under this MoU.