There are many innovative restaurant concepts such as funerals, death, Barbie, in-the-sky and dining in bed around the world. One such concept is underwater restaurants and have gained ultimate fame within diners all around the globe. In this article, we have listed a compilation of the 5 most creative underwater dining experiences from several different locations all around the world.
1. Ithaa Undersea Restaurant, Maldives.
As a beautiful and picturesque country surrounded by the ocean, Maldives is an ideal location for underwater restaurants. Hence, Conrad Maldives Rangali Island opened up Ithaa Undersea Restaurant 16 feet below sea level offering 180-degree views of the stunning ocean. They serve 7 course meals which you can enjoy while watching fishes swim by. Ithaa has been dubbed one of the most beautiful and one of the most beautiful restaurants in the world.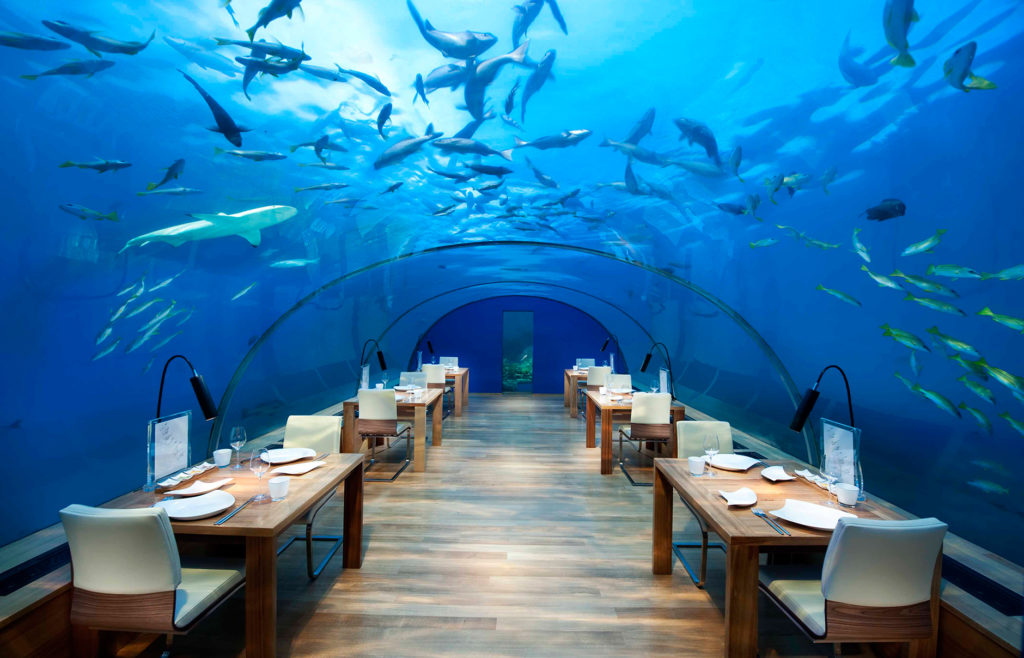 2. L'Oceanográfic Submarino Restaurant, Spain
Located in the center of an aquarium in Valencia, Spain, diners in this restaurant are surrounded by fish swimming around them making it feel like they are dining under the ocean. The restaurant offers cuisine from the Mediterranean such as Spanish cuisine and seafood. All tables in the restaurant are positioned underneath jellyfish-themed lighting.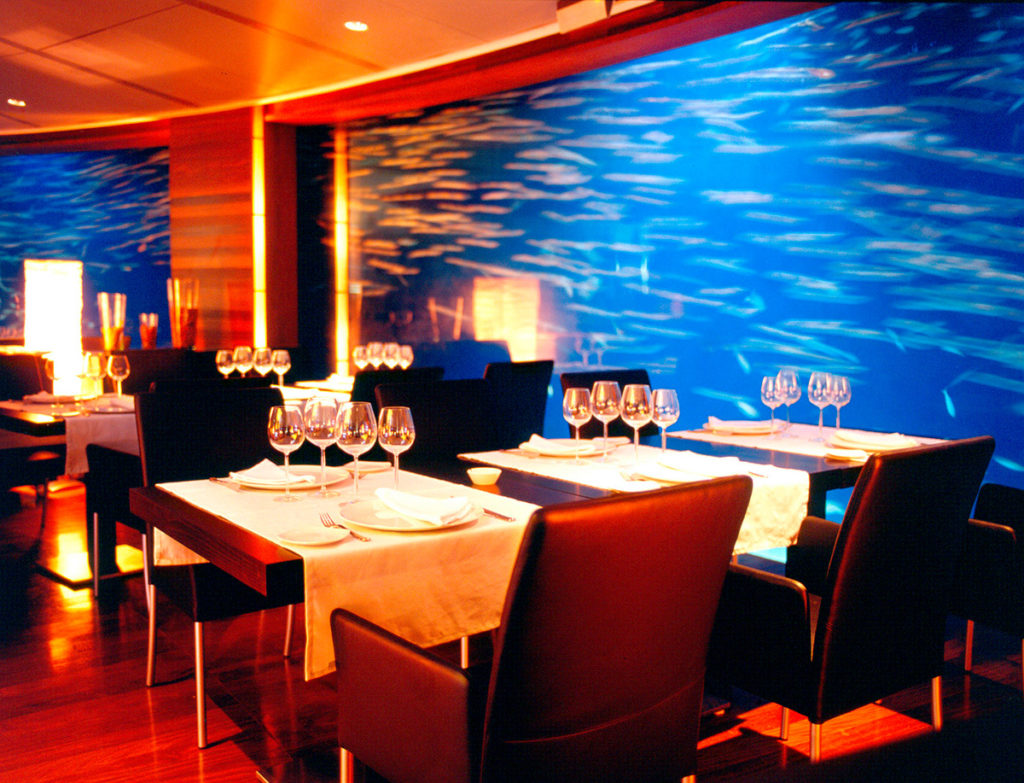 3. Al Mahara, Dubai
This beautiful restaurant is located in a floor-to-ceiling aquarium in Burj Al Arab Jumeirah Hotel, Dubai. It offers various types of dishes made with seafood and has a diverse wine list. As Burj Al Arab Jumeirah is a seven-star hotel, the restaurant too is highly regarded.
4. 5.8 Undersea, Maldives
Once again, it's a restaurant located in Maldives, this time at Hurawalhi Island Resort, is 5.8 Undersea, located 5.8 feet under the ocean. The restaurant consists of 10 tables and a coral landscape. Due to this reason, fishes will swim up to the glass, making the experience more surreal. The most special thing about the restaurant is that it is made of dislodged coral blocks, hence, which makes it its own ecosystem.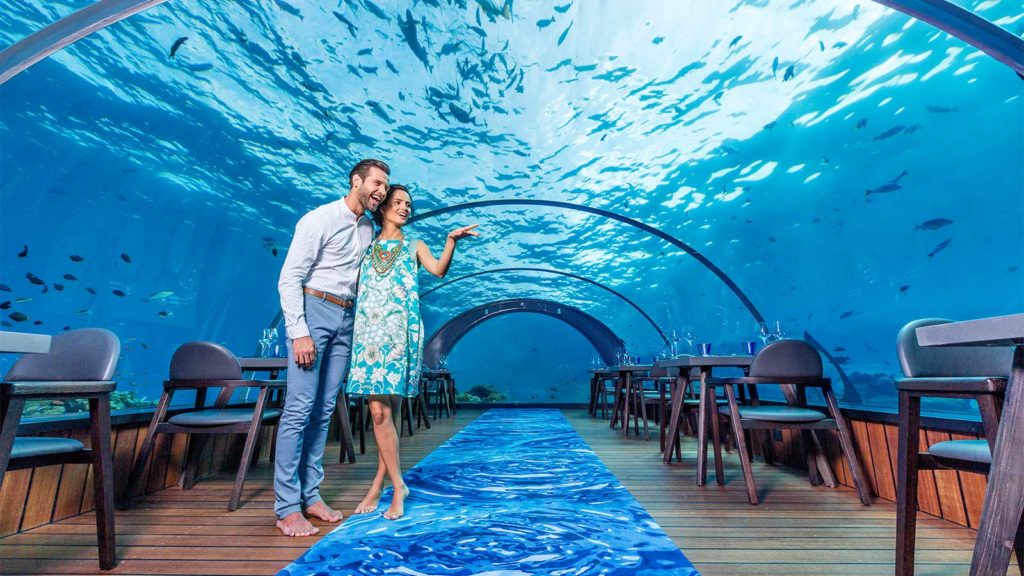 5. Atrium Bar, Germany
For a unique twist, this restaurant, located at the lobby of Radisson Blu Hotel in Germany is underneath a cylindrical aquarium. In one way, you could take it as the fishes being surrounded by humans instead of humans being surrounded by fishes. It serves drinks and light meals and is perfect for relaxing while looking up at the blue scenery with fishes swimming above you.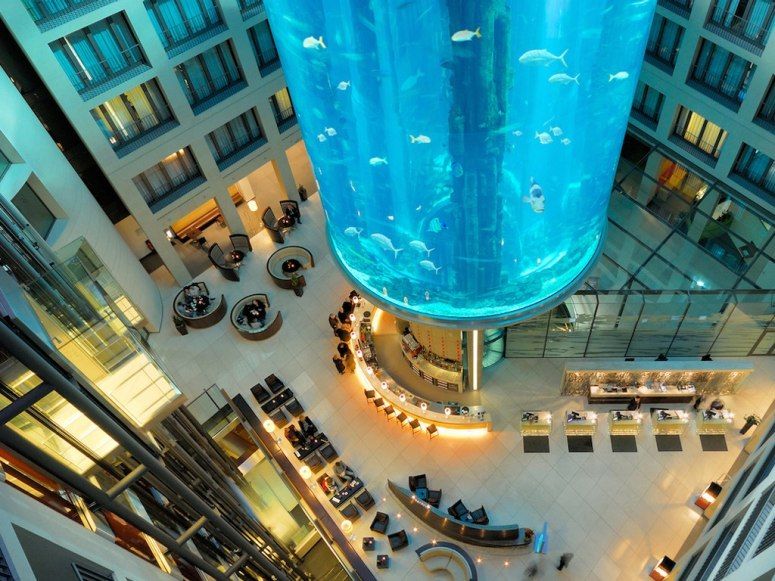 Restaurants keep adopting more and more unique concepts day by day making their diners entertained. Underwater restaurants are just one of many diverse ideas. As the world keeps advancing in technology and as innovation is becoming more and more common, more and more innovative ideas will come to light.