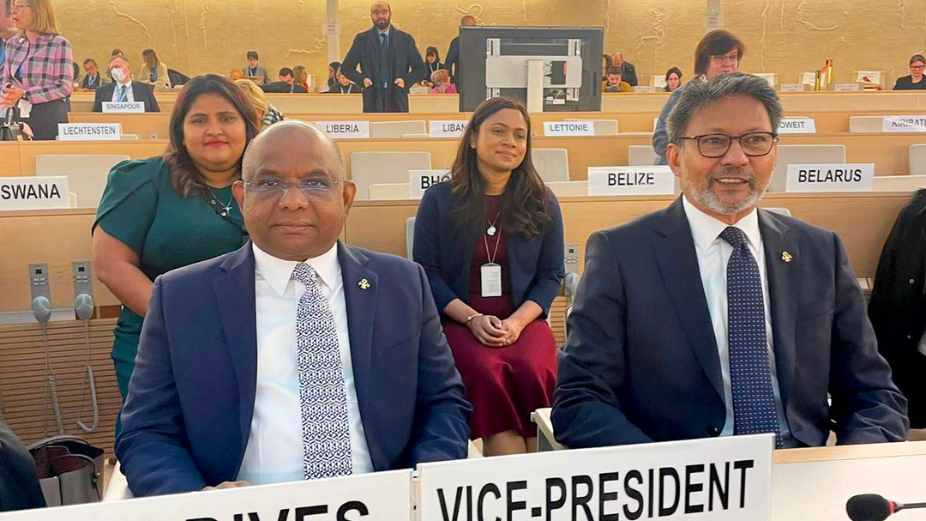 The 52nd Session of the UN Human Rights Council began today in Geneva Switzerland.
The session began with the High-Level Segment which will continue from 27 February 2023 to 2 March 2023. The general segment of the 52nd Session of the Human Rights Council will continue after the High-Level Segment from 3 March 2023 to 4 April 2023.
The Minister of Foreign Affairs Abdulla Shahid will address the Human Rights Council today. In his statement, Minister Shahid will brief the Council on the progress made by the government of President Ibrahim Mohamed Solih in the promotion and protection of human rights. In his address, Minister Shahid will also highlight the engagements of the government with the Office of the UN High Commissioner for Human Rights and the Special Procedures Mandate-holders. He will draw attention to the 75th anniversary of the Universal Declaration of Human Rights and the 30th anniversary of the Vienna Declaration and Programme of Action by renewing Maldives commitment to the multilateral system.
Minister Shahid will also participate in two high-level side events. The first side event is organized by the Core Group on Human Rights and the Environment on Bridging the gap: Outcomes of multilateral environmental action in 2022 and the Human right to a clean, healthy and sustainable environment, to be held on 27 February 2023. The second side event is organized by the Convention against Torture Initiative titled, By States, for States: Tapping into the Small Island Developing States Experiences with the UN Convention against Torture, to be held on 28 February 2023.
In line with the government's key policies and priorities, the Maldives delegation will deliver national statements in the general segment under several agenda items. The Maldives will be delivering a joint statement for the High-Level Panel on the Voluntary Fund for the Universal Periodic Review on behalf of a group of SIDS based in Geneva. The Maldives, together with a cross regional core group, will also present a resolution on the human right to a clean, healthy and sustainable environment.