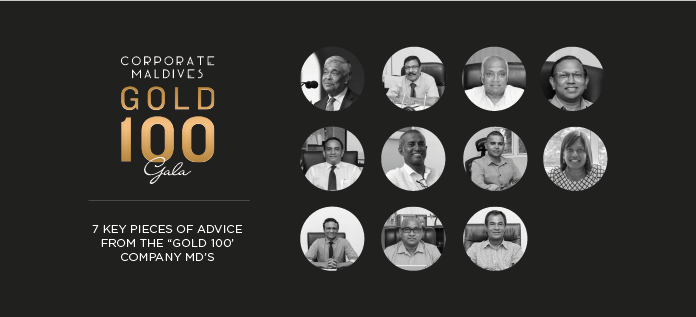 Corporate Maldives gathers the top 7 pieces of advice from the Gold 100 MD's – the list of leading 100 companies in Maldives. 'Gold 100' is the most prestigious award given to the top performing companies, from each industry and from a list of 13,000 registered-companies in the Ministry of Economic Development.
According to the Gold 100 Managing Directors, these 7 key pieces of advice can be useful to the newly established startups as well as to those who wish to venture into new businesses.
1 Belief and Positiveness
Just as in life, businesses also will have its up's and downs. Entrepreneurs should remember at first and foremost that it is the positive approach and complete faith in the people around that keep an organization going.
2 Healthy Lifestyle
It's important not to fall into the bad habits of an unhealthy lifestyle. Keep a clean diet, regular exercises and good sleep are key to success. This provides a good mentality and healthy body to focus on the day-to-day running a business.
3 It's a learning environment 
The struggles of subordinates are different compared to the leader's expectations, and how to work with their best version. In work environment, sometimes a person may not be the most important person every day, instead, today it could be someone else's today.
No matter what profession or field of interest one chooses to pursue, there is no substitute for experience and knowledge. It's important to move around and work with different groups of people, the more exposure, the better off one is.
Always be kind, be well-mannered when communicating with clients and customers while being true to your principles and maintaining an honest relationship with business associates and clients alike
4 Long-term approach
All markets are becoming competitive and this is the opportunity for those who face it with differentiation strategies to create a differential value for the customers. Ultimately those who succeed are the ones who are dynamic and adaptable to a changing environment.
An entrepreneurial journey is a long-term approach and there are no shortcuts. It takes time to understand how a phenomenon works and outsiders' perspective isn't enough to understand the industry. Everyone has skills that can be utilized if they are keen to develop themselves. Repeated failure is a myth. Of course, some failure is inevitable, but failure teaches us to go about succeeding.
5 Entrepreneurial attitude
If a person makes a commitment to something, then he/she must stick by it. Likewise, if a person makes promises to clients, or to staff, to anyone, then they must make sure to go through it. An entrepreneur's word needs to have some conviction to it.
Transparency and work ethics are the most important values that a person can instil within themselves. The trust built within the employees and clients is more important than anything else. If the trust of a company is broken, in an industry, it will not be easy to retain their clients or employees and that is the road to failure.
There's no such thing as a bad job, any job can be rewarding and can help feel accomplished if work with the right attitude.
6 Don't be afraid to fail
Never give up! Be confident and don't be afraid to fail. Failure is a learning curve and not trying can be the biggest failure. Individuals have different talents and should maximise the best of what is available.
There is always a chance to fail and could lose millions, but don't let that hinder the spirit or drive to succeed. Combined with the determination to succeed, anyone can make a difference and create a legacy of their own.
7 Receptive to change
Evolving a business and aligning it keeping customer's needs and preferences in mind is one of the key mantras to successfully operate any business. For entrepreneurs, it's very important to understand that their attitude towards the work assigned to them makes a big difference to what they will eventually become. Whatever the job or work might be, having a positive attitude to do tasks and being receptive to feedback will go long way in defining one's career.