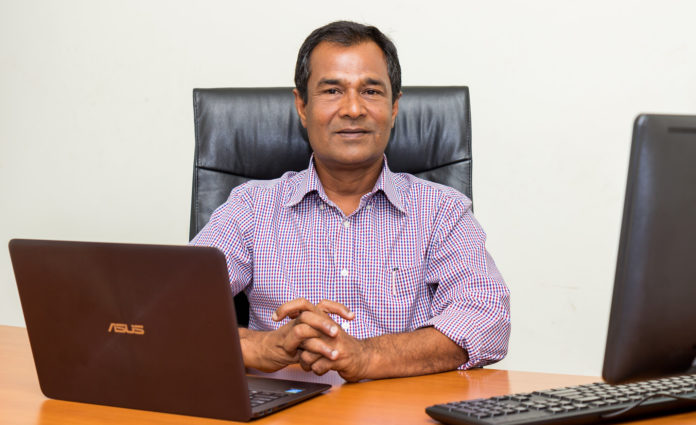 by Mohamed Khoorsheed and Zakwaan Asim
Mr Abdul Majeed, CEO of Bison Maldives Pvt Ltd, has been a veritable pillar in the construction industry of Maldives for the past 30 years. He was kind enough to take some time off from his busy schedule to have a chat with Corporate Maldives' Zakwaan Asim about his company, accomplishments, and the traits he considers important for someone to succeed in a corporate world.
"Punctuality is very important! I will be the first one to arrive and unlock the office before anyone else shows up and the last to leave, after locking the office of course. It doesn't matter if it's raining. You must be punctual. There's no excuse. For thirty years this has been my ritual. Impeccable work ethics, that is a key component to becoming a success. This is something I try to teach and pass on to my employees too.
When I finished high school, I was sent to serve in the military as per the Government policy at the time. For 5 years I served as a military officer for the country. As soon as the 5-year bond was over I left the military as I wanted to start my own business. It was always my goal to stand up and support my family by doing own thing, starting my own company. I always had an interest in the development sector and construction so that's what the way I wanted to go.
My younger brother and I had started a small company called Nexus earlier. He was a very technical person and not long after the company was formed we decided to go our separate ways and he eventually founded his own company. It was after leaving Nexus that I decided to start my own company, Bison. There's not much of a story to how the name came about, but that's how Bison was formed. The company was registered in 2002.
However, I would say that my business career didn't really start off until I got married and started living on my own. To this day I am very happy and proud that my success can be attributed in a large part to the support I got from my wife. During the 90s, my wife and I took part in numerous different business activities, including retail work. To survive at the early stage my wife and I worked towards the goal of starting a brand of companies in the country, targeting the construction industry. We had no industrial capital. You could say that the only capital we had was our youth and the drive to succeed. After taking a lot of small projects here and there, we eventually managed to reach the big leagues. That is to say, building resorts. Over the years, the methodology and the way resorts were being constructed had changed. We adapted accordingly and took on clients interested in building resorts in a more modern fashion.
Even from the beginning, we wanted to target the high-end luxury resort. That was the goal. The smaller projects we worked on helped build our reputation as a trustworthy company; but those were stepping stones. As the company grew, we branched out into other areas such as Bison Travel, Bison Trade and Bison International as well. Some of our other affiliations are Bison Aluminum, Hameedia and Reveries. Eventually we snagged our first major project in 2007: Constance Halaveli. From then on the projects we took on kept getting bigger and bigger, and presented different sort of challenges to overcome every time.
At the time construction machinery were not widely available in the country. We had to import everything we needed and since we didn't have a huge capital to begin with, the company always took a huge hit financially. However, we muscled through with hard work it has paid off. Now we have an amazing fleet of vehicles and machinery spread across the Bison family. Another challenge we face on a daily basis is finding local manpower and talent. Qualified human resources are hard to get here. Add to the fact that we wanted people who displayed great motivation and a relentless drive to succeed, and we had a huge problem. I feel that even among those who show promise, only a few exhibit the desire to succeed that we look for. Mostly, they are very irresponsible. It is a harsh thing to say, I know, but it is the sad truth about most of the youth in the country. I'm not saying there aren't any gems among the rough, but it's really difficult to find them.
That's why I have to hire foreign talent to do tasks that can otherwise be done easily by Maldivians. Some would say that staff become unproductive due to the work environment. That can't apply to Bison. Some of our foreign staff have been with us from the beginning, for nearly 15 years and counting. They come here fresh out of high school and work hard and as a reward we provide them with training and opportunities for higher education. This applies to anyone who shows potential as it is the Bison philosophy that anyone and everyone can achieve anything through hard work and dedication. And I strive to give the same opportunity for us with the 800+ staff. I owe my success to them. Every obstacle we overcame was another milestone for the company, and the Bison team deserves a lot of the credit.
We have always worked very closely with our customers. Finding out their requirements, identifying potential problems and proposing alternate solutions even before the clients know there is a problem. We have brought great changes to how things are done in the Maldivian construction industry. It won't be wrong to say we revolutionized many things. This was largely because of the unique geography of the country which required customized solutions to everything, including the problem of logistics. Adapting to the needs and providing new solutions to old problems is something we are always doing. For example, instead of using cement we have introduced something called "prefab". We are currently testing these in the country and looking forward to making it the norm in the construction industry. Another excellent example is how we are moving away from conventional methods of resort and water villa building by introducing paneled construction. The panels are lighter and easier to transport and assemble on the spot. We are always looking research and try out new technology and we find that our clients are always very open to new technologies that will make things easier and better. Our main goal is to be different and provide new concepts for resort design and construction.
Bison's portfolio is impressive, to say the least, and we have achieved a lot. If I had to single out one project as one of our biggest achievements, it would be Cocoon, the new resort. With over 150 rooms and a 5-star rating, it is something that the entire Bison group has been involved with and is one of our biggest success stories. However, I think best thing we have achieved is gaining the trust of our clients. Client satisfaction is the driving force. Leave all clients satisfied, no matter how big or small they are.
On a more personal note, I think passing a successful business on to my children is one of my biggest successes. Personally, there is nothing I'd rather do than work. However, I am a child of the sea and the ocean and I must return to it. I want to relax and experience the beauty of this country because I know for a fact that there is nothing better on this world. I have travelled a lot and trust me when I tell you this: there is no country, no beauty comparable to that of the Maldives. Even through retirement I would continue to help with the company and sustain the business.
In truth, Bison is a family business as it is managed by me, my wife and our two children. The success of Bison depends largely on the talented team that we have assembled here. Bison's corporate culture is something that our staff have adopted wholeheartedly and motivates them to perform better and build stronger ties with each. In the end, this just makes Bison so much stronger as a company. If you want success, you must have the desire and the focus. Figure out what you want and then go do it, because the opportunities are there. All you need to do is work towards the goal. The future is big, the future is bright, and you must always work to achieve greatness."