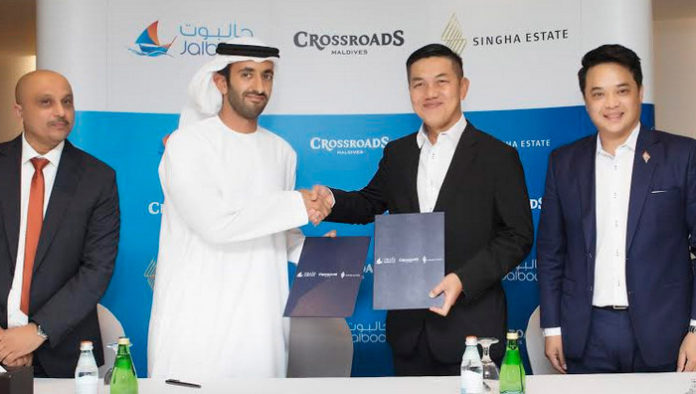 Singha Estate Public Company, a premier property development and investment holding company, has selected Abu Dhabi-based Jalboot Holdings to manage its luxury marina at Crossroads; the largest integrated destination in the Maldives.
With its close proximity of a 15-minute boat ride from Velana International Airport and Malé the capital city of Maldives, Crossroads aims to captivate leisure travellers and family markets with a development spanning nine islands, boasting 1,300 rooms and a retail space of over 11,000-sq-m.
The project's leisure and entertainment hub, The Township,  will house a variety of international restaurants, retail outlets, a world-class wellness spa, a Maldives Discovery Centre with coral preservation and coral propagation activities, a diving centre, a multi-purpose hall, a kids club, and a cultural centre. World-renowned partners at the Township include Hard Rock Café Maldives, Café del Mar, and two of Asia's 50 Best Restaurants, Ministry of Crab and Nihonbashi.
As per its partnership deal, Jalboot will be providing a full spectrum water transport solution for Crossroads, including marina management, water transport and other support services.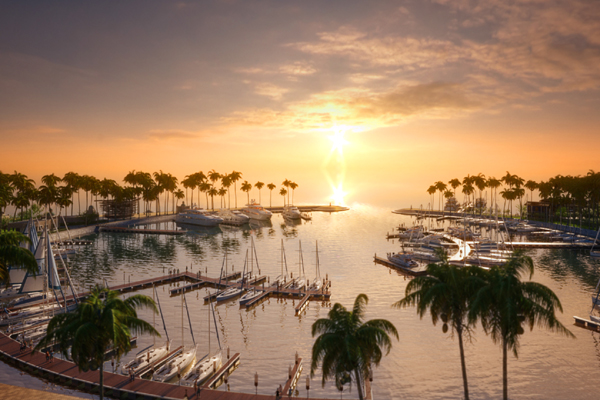 It will also open a 'one stop shop' retail space at Crossroads' Township – the project's leisure and entertainment hub – that will hold agencies for different vessels and spare parts, with a chandlery stocking specialist supplies and equipment. This retail space will include a dedicated VR Lounge for visitors to experience virtual tours on many of Jalboot's vessels available for purchase.
Alongside managing Crossroads' luxurious berth yacht marina, Jalboot will be providing a comprehensive range of luxury cruise services at the integrated destination totalling six vessels consisting of:
• Round-trip ferry transportation services to and from Velana International Airport, Malé, and other nearby islands
• A yacht chartering service
• Cutting edge electric Dhoni boats providing inter-lagoon services
Jalboot's vessels have been uniquely designed for the Maldives-based Crossroads, fully equipped with air-conditioning, and having the capacity to transport over 4,000 passengers per day. Placing sustainability first, key innovations of the vessels include:
• Water jet propulsion, instead of conventional propellers which can have a damaging effect on precious marine life and corals, suitable for the geography of the Maldives.
• Full-scale Solas standard facilities.
• A catamaran design engineered to enable vessel stability and comfort.
Jalboot Holdings is a leading integrated provider of vessel design, construction and operation of sightseeing and passenger transfer ferry services based in the UAE capital. Founded in 2013, the company has surged to the frontline of the marine transport service industry, and in addition, also provides private and commercial boat charters.
Plans are also underway for Jalboot's inter-island transportation to be completely electric-powered. Visitors to Crossroads can also look forward to enjoying a show, where Jalboot will showcase new models of luxury vessels. Additionally, the marina will include an upscale boardwalk, featuring a stylish dining experience, hosting celebrity chefs and world-renowned DJs.
"Singha Estate is very excited about this collaboration with Jalboot. They are the perfect partner for Crossroads as our upscale water transportation and services that will bring in the new marina experiences," said Naris Cheyklin, chief executive officer, Singha Estate Public Company.
Source: Trade Arabia