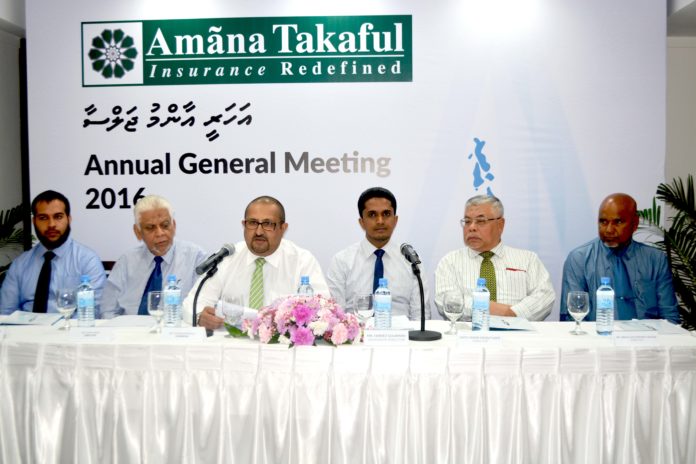 Amana Takaful (Maldives) PLC, the only Shariah Compliant listed entity in the Maldives Stock Exchange, has concluded its Sixth Annual General Meeting on 14th May 2017 ,having  announced a final dividend to its shareholders.
In declaring dividends to its shareholders, for the sixth year in succession, the reporting year is of significance being the highest pay-out of 12.5%. In addition to the interim dividend payout in August 2016 and December 2016, a final dividend has now being approved at the AGM. "I am very pleased to announce that based on the business results, the Company has declared two interim dividends in August and December 2016. In total a 12.5% dividend on the face value of shares have been distributed to the Shareholders" said Chairman Tyeab Akbarally.
Akbarally further commented that "Despite the negative impact on being deprived of underwriting Expatriate Medical covers, the Company stayed the course, relentlessly, strengthening its distributional channels with the introduction of niche products & customized solutions"
During the last financial year, the company recorded significant growth in Gross Written Premium, surpassing the MVR 100 Million threshold. Our record of Year on Year (YOY) growth accelerated to 19%in 2016 with all classes contributing positively.Profits including other comprehensive income was MVR 3.3 Million. The under-lying sustainability in the business, in very trying market conditions, has been the main trust in meeting and exceeding Shareholder expectations.
 "Our goals and action plans had to be cautiously reviewed periodically, to stay ahead of emerging insurance requirements in the compelling business environment. Our core objective was to explore new business avenues to sustain our profit momentum and stay the course" said CEO/Managing Director Hareez Sulaiman.Commenting on business development, he added "As part of our culture of continuous improvement & service extension initiatives, we embarked on strategic alliances with institutions and corporates. Further our unrelenting focus in delivering shareholder value &, meeting stakeholder expectations is built on the bedrock of a business model of a well-balanced portfolio that leads to sustainable business growth and a robust fund position."Hareez concluded.
The Company has met the highest claim ever in the year 2016, extending timely support to the claimants who faced calamities.
The closure of the books for the purpose of dividend distribution shall be 23rdMay. Shareholders in the register as of that date, will be eligible for the dividend. Shareholders decided to re-elect Dr. Abdullah Shiham Hassan as an Independent Director.
AGM was concluded with the decision to provide personal accident cover for all the existing individual Shareholders. In the next seven days' all shareholders will receive a communication in this regard.
The Board comprises of  Tyeab Akbarally (Chairman), Hareez Sulaiman (Managing Director), Directors Osman Kassim, Dato' Mohd Fadzli Yusuf, M. H. M. Rafiq, Dr. Abdullah Shiham and Abdullah Kassim.