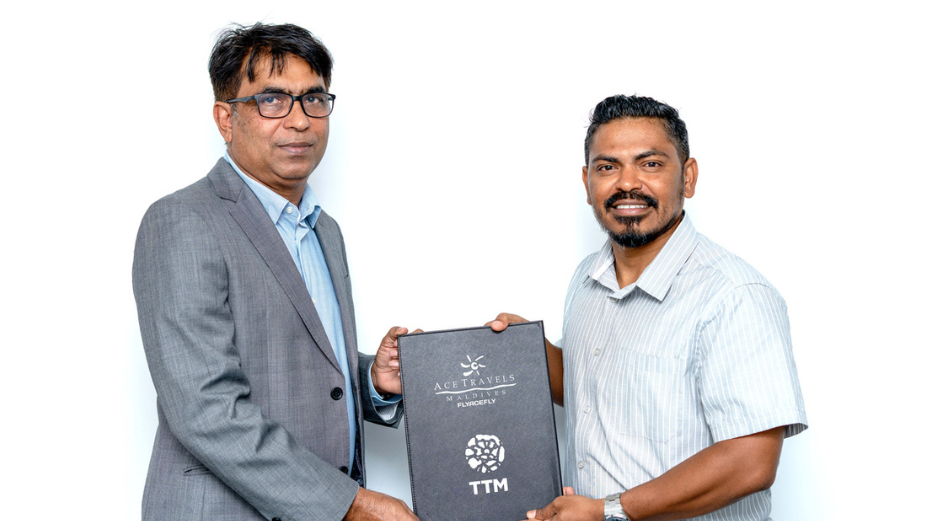 Leading travel allied service provider Ace Travels Maldives (ATM) has signed as a gold partner for TTM Maldives 2022, Maldives leading international travel trade show which will be held from 23rd to 25th August 2022.
Ace Travels Maldives (ATM), established in 2002 is a wholly owned subsidiary of Aitken Spence Travels & Inner Maldives Holidays Group. As a leading travel allied service provider ATM has significantly contributed to the development of tourism in the Maldives. ATM commenced operations as a DMC however, diversified into aviation services and outbound tourism since 2007.
Ace Travels Maldives caters to all your needs, where it be airline ticket issuances, medical travel, holiday Ace Travels Maldives, leading Travel Management Company is geared to handle All Airlines (Global), Holiday packages with Activities (Maldives & Global), All Medical travel, Group & MICE Travel Arrangements, Airport Ground Handling Supervision & VIP / CIP Services, and many more.
As part of TTM Maldives 2022, the TTM Connect meetings will be held at Meeruma Conference and Facility on 23rd and 24th August 2022. The TTM Travel Summit and TTM Awards & Gala will be hosted at CROSSROADS Maldives on 25 August. More than 200 hoteliers, suppliers, related industries, and travel industry professionals from Maldives and abroad are expected to visit TTM to network, negotiate and discover the latest industry opinion and trends in Maldives.
The registered exhibitors of TTM will also get a lot of added benefits including the usage of "Connect" Portal to pre-arrange meetings online prior to the event. Exhibitors will also get access to the invitation-only TTM Travel Summit and Awards & Gala night. Every year, TTM Maldives sees over 3000 pre-scheduled meetings with over $1 billion worth of contracts discussed.
Partners of TTM Maldives 2022 also include Maldives Marketing and PR Corporation, Ooredoo Maldives, CROSSROADS Maldives, Jalboot Maldives, HRS International, IdeaS, Trans Maldivian Airways, Maldivian and Ace Travel Maldives.
Ace Travels Maldives is also offering special rates on your travel to the Maldives for the TTM and other events (from any destination). Click here to submit your inquiries.