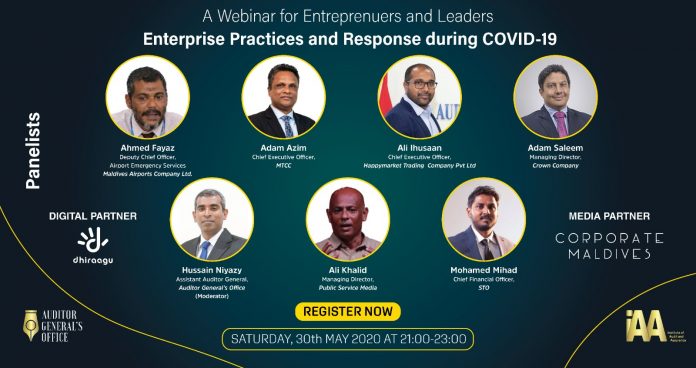 A webinar for entrepreneurs and leaders to discuss enterprises practices and response during COVID-19 has been conducted by Auditor General's Office (AG's Office) and Internal Audit and Assurance (IAA).
The webinar was held on Saturday, 30th May at 21:00 to 23:00.
Panellists who participated in the discussion were Ahmed Fayaz, Deputy Chief Officer, Airport Emergency Services, Maldives Airports Company Ltd (MACL), Adam Azim, Chief Executive Officer, MTCC, Ali Ihusaan, Chief Executive Officer, Happymarket Trading Company Pvt Ltd, Adam Saleem, Managing Director, Crown Company, Ali Khalid, Managing Director, Public Service Media (PSM), Mohamed Mihad, and Chief Financial Officer, STO.
Assistant Auditor General of AG's Office, Hussain Niyazy was the moderator of the webinar.
Media partner for the webinar was Corporate Maldives and digital partner was Dhiraagu.