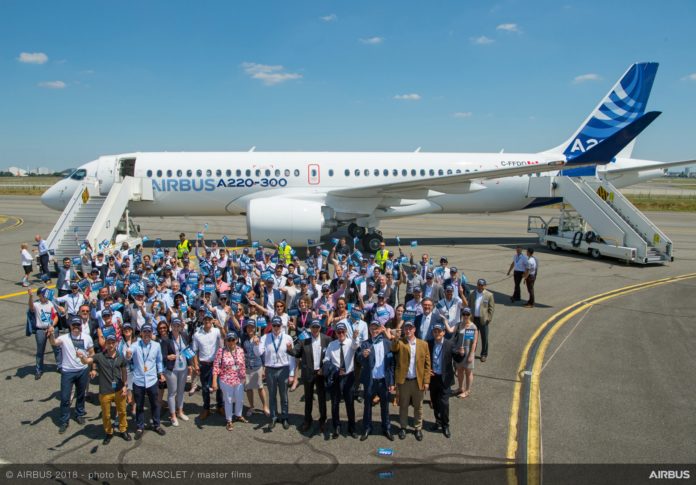 Airbus' new A220-300 made a high-profile arrival on 10th June – providing visual confirmation that the company's single-aisle product line has now expanded with the A220 Family of jetliners.
Formerly the Bombardier C Series, the A220-100 and A220-300 were specifically designed for the 100-150 seat market and perfectly complement the A320 Family. Some 100 employees were on the tarmac to give a warm welcome to the A220-300 – the longer-fuselage version in the A220 Family – on behalf of everyone at Airbus.
Standing in front of the newest Airbus jetliner, Guillaume Faury, President of Airbus Commercial Aircraft, acknowledged the day's importance for the company's future. "This is an historic day for Airbus and for the aviation industry," he said. "We're already working together, and I can feel the impatience, the momentum, the pleasure and the excitement as this beautiful aircraft lands for the first time as a member of our family."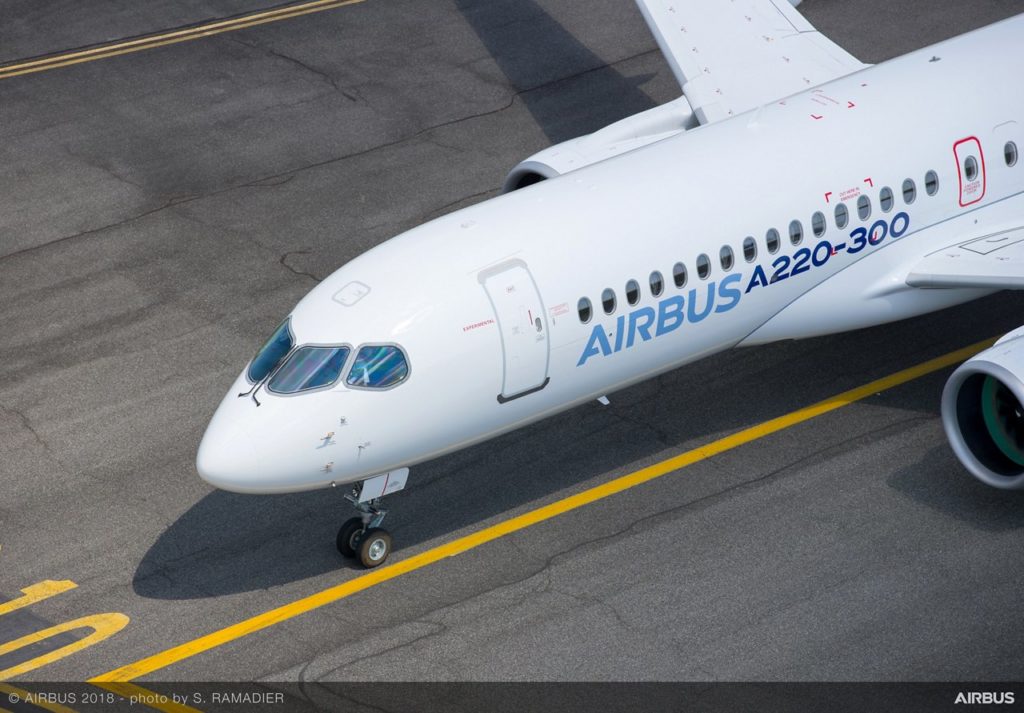 Eric Schultz, the Airbus Chief Commercial Officer, added that the A220 already is generating great interest among potential customers. He said this is no surprise as "our new colleagues have built something quite extraordinary. I don't think it will be long before we hear news from the market.
"I can assure you that work is well underway to make the A220 a commercial success, the market leader for aircraft between 100 and 150 seats," Schultz added. "We trust that this segment could total as many as 7,200 aircraft over the next 20 years – that's an exciting prospect."
Philippe Balducchi, president of CSALP (the Airbus partnership with Canada's Bombardier) concluded by giving an insight into the ramp-up of production that already is underway in anticipation of increased sales.
"We're already focused on our plans to raise production of A220s and to sharpen its competitiveness in the marketplace," he explained. "I think it's already been made very clear that our Canadian colleagues gave birth to a fantastic aircraft. We'll strive to do it justice with our experience in managing complex aircraft programmes and supply chain."
Source: Airbus