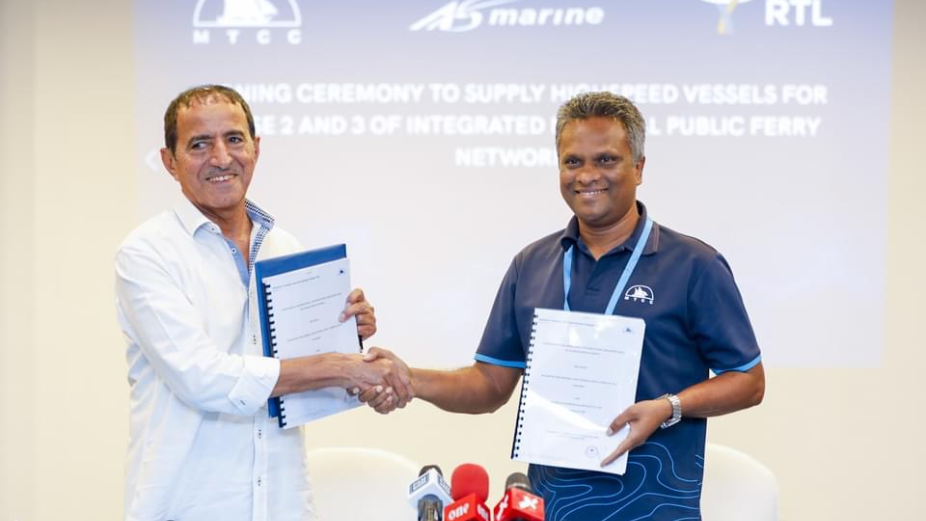 Al Shaali Marine Maldives has been contracted by Maldives Transport and Contracting Company (MTCC) to manufacture and supply the additional ferries required for the implementation of the Phase 2 and 3 of Raajje Transport Link Ferry Service carried under the "Integrated National Public Ferry Network Project".
In a ceremony held on Thursday, CEO Adam Azim signed on behalf of MTCC and Chairman Abdulla Hussain Mohammed Al Shaali, signed on behalf of Al Shaali Marine Maldives.
Al Shaali Marine Maldives, a leading manufacturer of speed ferries, will manufacture and supply 65 ferry vessels to MTCC as part of the terms of the agreement. The ferries will be designed with 50 comfortable seating arrangement and air-conditioned cabin along with special arrangements to cater people with special needs (PWD). In this regard, the ferries will have PWD accessible toilets, access ramp for easy access, spaces for stretcher and wheelchair.
The Phase 1 of the Integrated National Public Ferry Network Project, which is currently in operation in HA, HDh, and Sh. Atolls, as well as the implementation of Phases 2 and 3 to the remaining 17 atolls, will connect all islands in the Maldives through a reliable and convenient RTL ferry network, helping to bring socio-economic prosperity to the Maldives at large.