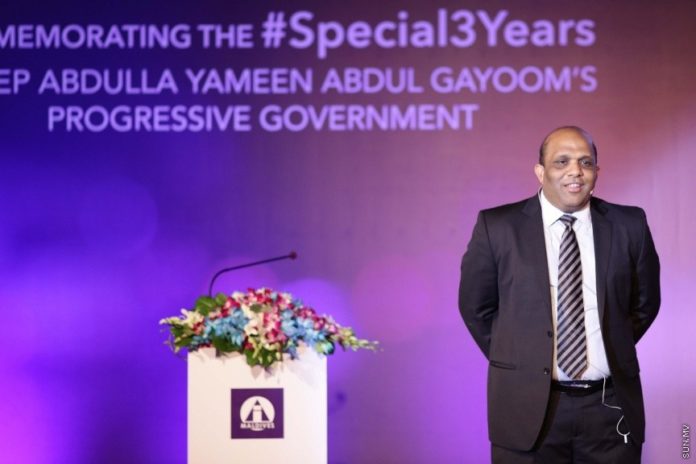 In a special event held to commemorate the 3 years of President Yameen's presidency, Allied launched several different products that they believe would change the face and outlook of Maldivians towards insurance in the country. All products were aimed at areas that are in need of such assistance.
During the function Allied showcased their growth over the past 30 years since their operations began and have compared themselves with insurance companies across the region and are now one of the top tier firms to do so.
Their capacity has grown from $70 million to an astounding $120 million according to their Managing Director Mr. Ahmed Ameel. In his address he stated that their performance has increase by 69% during President Yameen's rule and the insurance claim has increase from 26% to 30% annually over the past 3 years.
Some of the new products launched during the event are:
Allied App for IOS and Android along with toll free number
Insurance for Secondary Education
'Kamana" Insurance (for women)
Allied Products via Postal Services
Allied application was launched to make all online business transactions of Allied to make it easy for customers by making services such as getting Motor and Travel Insurance, renew and verify policies and accessing Electronic Motor Insurance Sticker. Along with the app a toll free number at 1600 where customers can call to get a hands-on assistance with their insurance needs.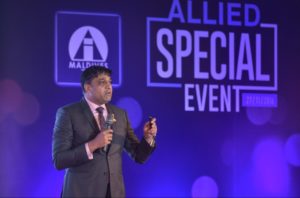 Secondary Eductaion scheme lets students get the money needed to cover expensive tiution fees during secondary education period. This is a new scheme sperated from the already existing higher education plans by Allied
Kamana is a savings and protection plan with multiple benefits exclusively designed to cater to the short term and long term financial needs of women. The plan pays biennial cash benefits and provides a valuable cover against critical illness and untimely death. A sum is accumulated every two years till maturity. This amount can be withdrawn in case of an emergency. short term needs such as like loss or switch of jobs, loss of pay due to extension of maternity leave and other such unforeseen situations. Check out their TV spot 
Customers can also get any Allied product or service via the postal outlets of the country. With more than 20 Post outlets spread through the country it is convenient and easy to acces instead of going to a dedicated office for their services. In addition to this they have launched M-Faisaa; the ability to pay for their services using mobile money with the help of Ooredoo Maldives. With technology and handheld devices becoming the norm, Allied saw it fit to launch such a platform with the ever growing smartphone and networking industry of the Maldives to enable ease of access to their services.
Allied is the largest insurance company in the Maldives and a strong brand name in the region as well. With the launch of these new products they hope to expand and go beyond their current horizons to provide a world class service to their customers in the country and beyond.