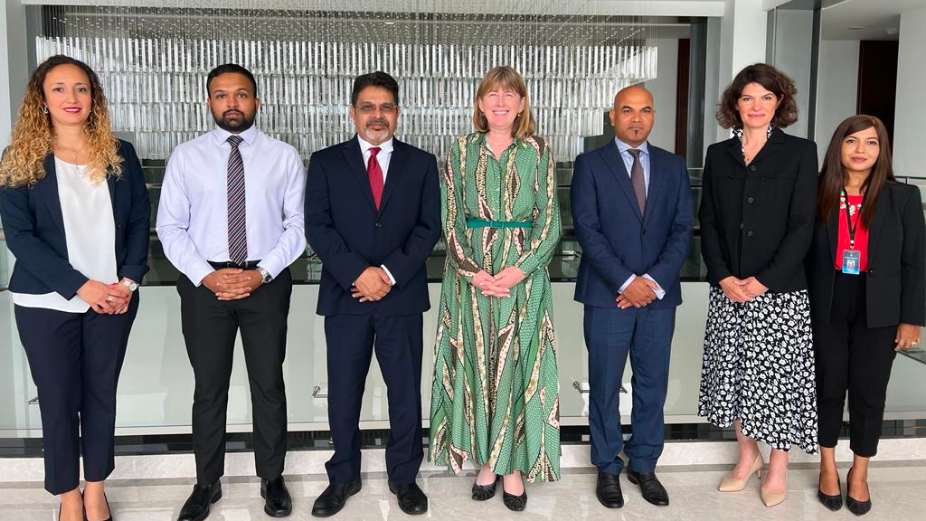 Ambassador-at-Large His Excellency Abdul Ghafoor Mohamed met with the Special Rapporteur on the promotion and protection of human rights and fundamental freedoms while countering terrorism, Ms. Fionnuala Ní Aoláin yesterday. The Special Rapporteur is currently undertaking a country visit to the Maldives from 15-24 May 2022.
During the meeting held yesterday morning at the Ministry of Foreign Affairs, Ambassador Ghafoor welcomed the Special Rapporteur to the Maldives and thanked her for accepting the Government's standing invitation that has been extended to all Special Rapporteurs Mandate Holders. Ambassador Ghafoor also reiterated the commitment of the Government to fully cooperate with the Special Rapporteur and assured that the Maldives will look forward to the recommendations of the Special Rapporteur to further improve the human rights situation in the Maldives. The Special Rapporteur briefed Ambassador Ghafoor on the issues related to her mandate on countering terrorism and took positive note of the progress Maldives has achieved in promoting and protecting human rights.
Ambassador Ghafoor was accompanied by Ahmed Shiaan, Additional Secretary, Mohamed Aseel Hassan, Legal Counsel, Mariyam Reesha, Director-General, and Adam Hamid, Director at the Ministry of Foreign Affairs. The Special Rapporteur was accompanied by Dr. Anne Charbord, Senior Legal Advisor and Michelle Erazo Martínez, Human Rights Officer.
During her visit, the Special Rapporteur will have official meetings with a number of interlocutors, including those from the Executive Branch, the Legislature, the Judiciary, independent commissions, civil society and other important stakeholders. The Special Rapporteur will also visit a number of detention facilities.
The Government of Maldives has been forthcoming in its desire to engage more closely with the Human Rights Council and its mechanisms, with genuine efforts being undertaken to conduct an objective assessment of the domestic human rights mechanisms, with a view to further improving and strengthening them.
The Special Rapporteur on counter-terrorism and human rights is a Special Procedures mandate-holder of the UN Human Rights Council that was established in April 2005 by the former Commission on Human Rights. The mandate of the Special Rapporteur has been extended by the Human Rights Council multiple times, most recently on 12 April 2022, for a further period of three years.