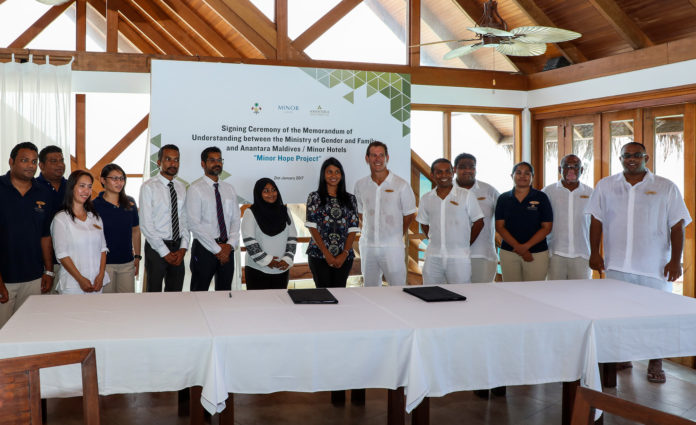 Anantara Maldives has signed a Memorandum of Understanding with the Ministry of Gender and Family for an internship program for children living in 'Kudakudhinge Hiya' orphanage, under 'Minor Hope', a revolutionary CSR initiative by Anantara Maldives to provide the country's underprivileged youths with vocational guidance, education, and welfare.
The MOU was signed today at a special ceremony at Anantara Dhigu Maldives Resort, by Coetzer Deysel, Cluster General Manager Anantara Resort, and Dr. Athaullah Ahmed Rasheed, State Minister for Ministry of Gender and Family. The Minister of Gender and Family, Ms. Aminath Zenysha Shaheed Zaki also attended the ceremony.
Speaking at the signing, Minister Zenysha expressed her sincere gratitude to Anantara Maldives for embarking on such a noble initiative and remarked that Minor Hope would help make the lives of disadvantaged children growing up in orphanages so much better, and in turn the society as a whole.
Targeted mainly towards youths growing up in orphanages and underdeveloped island communities, Anantara Maldives' 'Minor Hope' program hopes to provide a sustainable CSR initiative as a viable platform for the development and growth of the country's less privileged youth.