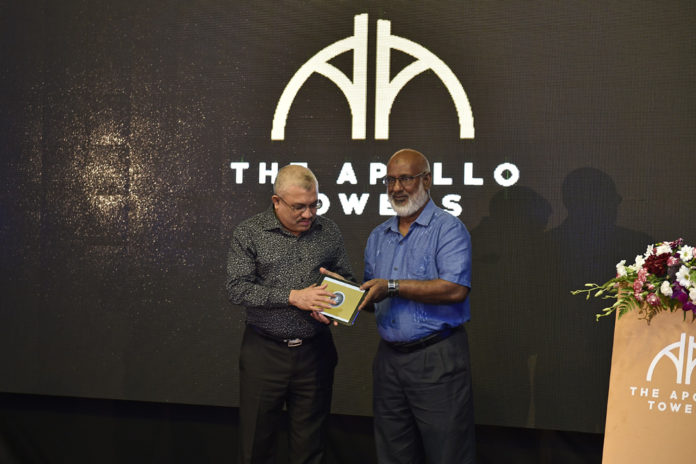 Apollo Holdings Pvt Ltd has today unveiled its first luxury real estate project 'The Apollo Towers' set to rise with a beach front view in the northern side of Hulhumale' in front of Yacht Marina.
During a ceremony held at Dharubaaruge, the Apollo Towers was officially launched by His Excellency Honourable Vice President of the Maldives, Mr Abdulla Jihad and Chairman of Apollo Holdings Mr. Ahmed Nasir.
'Apollo Holdings intends to deliver competitively priced apartments into this quickly growing real estate market that will provide a compelling opportunity for investors and home seekers alike' said Chairman of Apollo Holdings, Ahmed Nasir.
The 121,397-square-foot project will include a 10 storey tower and a 9 storey tower which together offers three types of residential units; Semi-Deluxe, Luxury and Penthouse Apartments. Together the Apollo Towers will offer total 97 apartments which will include; 61 Semi-Deluxe apartments, 28 Luxury apartments and 8 Penthouse apartments.
These three types of apartments comes in thirteen different sizes, which include three-bedroom apartments, two-bedroom apartments and one-bedroom apartments. Sizes of the apartments will range from 457 square-foot to 2433 square-foot with additional amenities such as in-house kid's play area, gymnasium, multi-purpose hall and a parking area.
Bookings for the apartments are now being offered with a pre-booking fee of Rufiyaa 50,000. Prices for apartments will start from Maldivian Rufiyaa 1.1 million.
The Apollo Towers will be developed in north west side of Hulhumale' Phase 1 and in front of Yacht Marina and occupancy is scheduled for 2018.
About Apollo Holdings Pvt Ltd
Apollo Holdings Pvt Ltd was established in the year 1998 as a private limited company. The company commenced trading in the same year with import and distribution of hardware materials in the Maldives as its main line of business. Local distribution channels were laid upon incorporation with outbound logistics capacity of delivery up to island jetty in any part of the Maldives.
Apollo Holdings Pvt Ltd is a subsidiary of Lily Enterprises Pvt Ltd. Lilly Group of companies is a wide corporate chain within Maldives, well aware and highly recognized as socially responsible by the citizens of Maldives.