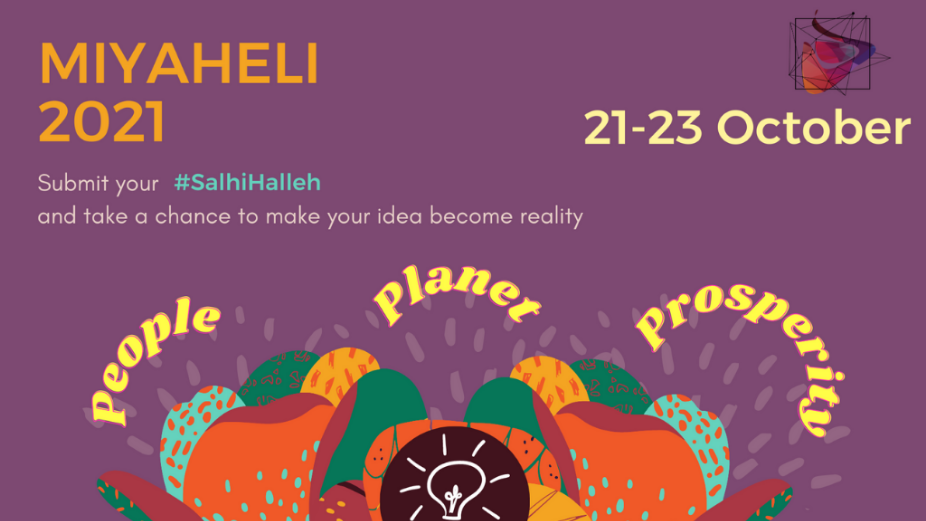 Call for applications are now open for social innovation camp 'Miyaheli' 2021. The camp will be held from 21st to 23rd October 2021, and the theme this year is 'Innovation for People, Planet and Prosperity'.
'Miyaheli' is a social innovation camp hosted by the United Nations Development Programme (UNDP) and  Ooredoo Maldives since 2016, with the support of the Government of Australia and in collaboration with  several partners with the aim to empower young individuals to become change-makers. The series brings together youth, ideas, mentors and digital and nondigital tools to create innovations on pressing social  issues in Maldivian society through social entrepreneurship. Close to 90 youth from across the country have been engaged since 2016. 
Together with UNDP and Ooredoo, 'Miyaheli' has partnered with the Ministry of Youth, Sports and  Community Empowerment since 2019, and this year's camp is also held in collaboration with Business Center Corporation and Youth Co: Lab. 
This year's 'Miyaheli' is focused on addressing these challenges, with participants allowed to be creative and flexible within these thematic areas: 
1) Innovation for the Planet:  How can we use technology and tackle the rising threat of climate change and consequent effects?  – How can we adopt a circular economy and bring out waste-to wealth solutions? How can we foster environmental stewardship and more sustainable business? 
2) Innovation for the People: How can we help young people realize their potential and work towards a more cohesive, resilient  society? How can we ensure that the most vulnerable in our society have access to basic services and commodities? How can we use technology to improve lives of marginalized populations? 
3) Innovation for Prosperity: How can we increase our freedom of choice to improve everyday lives? How can we utilize available resources to generate employment and livelihood opportunities? How can we best use the natural resources we have in a sustainable manner?
'Miyaheli' allows young people to create change from the grassroots up and provide the opportunity to turn  their ideas into reality. At the end of Miyaheli, top five winning ideas for social innovation will be selected. Seed funding and mentorship will be provided to the five winners in accordance with their proposed budget and requirements, so that the ideas can continue to prosper and make a difference. 
Due to the COVID-19 situation, this year's 'Miyaheli' targets youth aged 18-30 years residing in Alif Alif, Alif Dhaalu, Vaavu and Kaafu atolls. Individuals residing in these areas who meet the criteria are encouraged to apply. All participants will be required to have completed both doses of vaccines.
The deadline for submission of applications is 7th October 2021. Interested individuals may apply via this link.