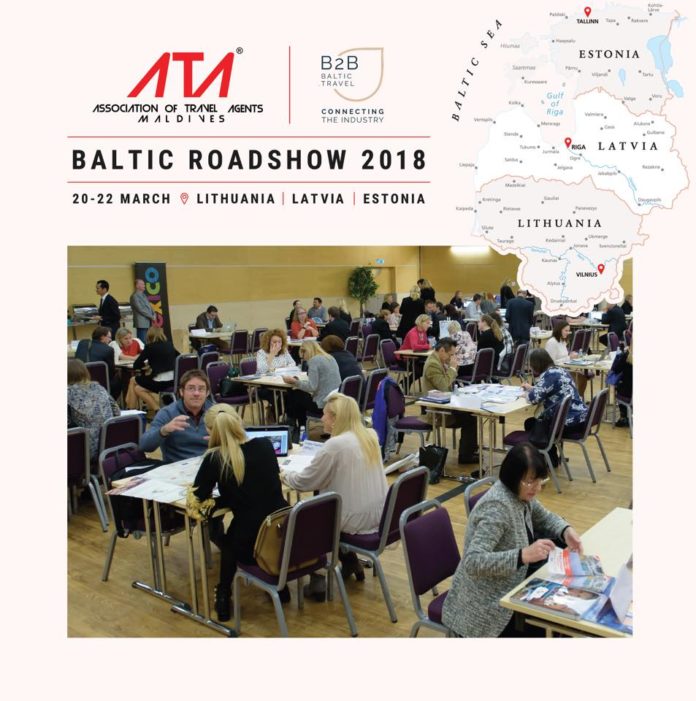 Association of Travel Agents (ATA) in association with B2B Baltic Travel LTD is pleased
to announce the first edition 'Maldives Baltic Roadshow 2018' the first ever travel
trade dedicated to promoting Maldives in Baltic countries Lithuania, Latvia, and Estonia.
ATA partnerships with B2B Baltic Travel, the company's core area of expertise are
tourism and destination marketing, with more than 10years of experience assisting
destinations around the world and international travel hospitality companies in
successfully developing contacts in Lithuanian, Latvian and Estonian Travel trade.
Maldives Baltic Roadshow offers the opportunity to experience the travel industry with
reliability and closely interact with Travel agents for a long-term partnership. Travel
Agents and hoteliers are invited to the Baltic countries to meet more than 50 suppliers
in each city. At this event, we arrange for suppliers and agents to meet each other
during the time slot, to establish contacts anew or refresh them. After all, face-to-face
meetings are far more meaningful.
ATA focuses on to do more destination marketing, as effect of destination marketing
has a vital role to play in shaping the success of Tourism Industry.
Our upcoming destination marketing roadshows are South Africa Roadshow and
Scandinavian Countries Roadshow.
Registration for the Roadshow, which is to be held from 20-22 March 2018, is open until
February 28. Interested parties have been requested to submit Registration form to
ATA. The registration form is available for download.