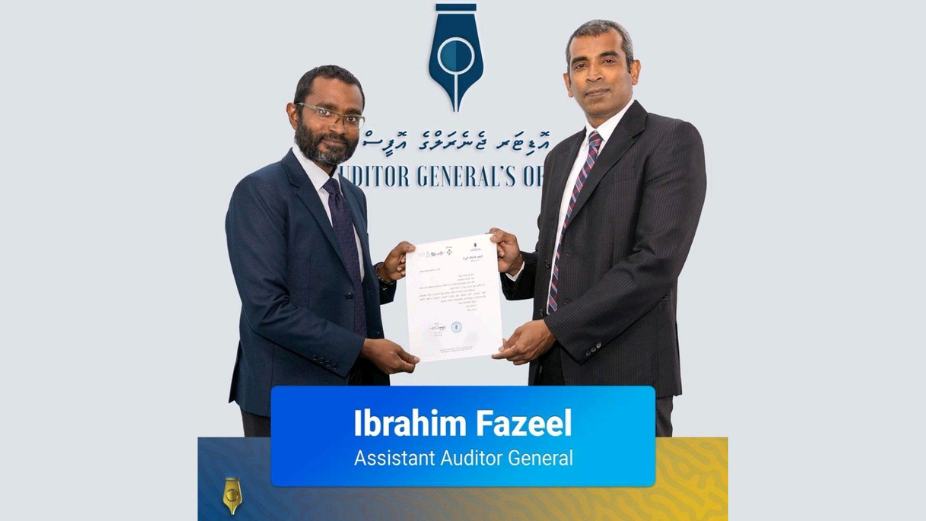 Auditor General's Office has announced the appointment of Mr. Ibrahim Fazeel as an Assistant Auditor General at Financial and Compliance Audit Services Division by Auditor General Hussain Niyazy.

Mr Fazeel counts over 15 years of experience in external auditing and several years of experience in internal auditing, risk management and governance. He worked in various senior positions at the Auditor General's Office and continues to hold some prominent positions at the Auditor General's Office and other public institutions.

He worked as the Director of Audit, SOEs and Statutory Bodies until 31 December 2021, and Director of Financial and Compliance Audits until 31st July 2022. He is also the head of Internal Audit and Risk Management function at the AGO. He served a three-year term on State Internal Audit Committee at the Ministry of Finance until April 2021.

He has been a catalyst for the creation and establishment of internal audit and risk management functions at State-Owned Enterprises as well as key public institutions. He is also a council member, chairperson of Technical and Standards Committee and Vice Chairperson of Admissions and Licensing Committee at the Institute of Chartered Accountants of the Maldives.

Mr. Fazeel is a fellow member of Chartered Institute of Management Accountants (CIMA), a Chartered Member of Institute of Internal Auditors (UK & Ireland) and a Certified Internal Auditor and holds a Master of Science (MSc) degree in Audit Management and Consultancy from Birmingham City University of the United Kingdom and a Bachelor of Commerce degree from Bangalore University, India.

Auditor General's Office states that they are confident that his expertise, dedication, and honesty will help the AGO perform more efficiently.