The challenges posed by COVID-19 for accountants, auditors, business community, individuals and families call for increased collaboration, knowledge-sharing and constant discussion among stakeholders. With this regard, the Institute of Audit and Assurance (IAA) of the Auditor General's Office is hosting a series of interactive webinars on issues of mutual concerns, with business community and other stakeholders.
The webinars are organized based on the challenging environment accountants and auditors work in with the threats businesses and industries face due to COVID-19. In addition, the psycho-social impact of COVID-19 on individuals and families due to job losses could adversely impact relationships and the quality of life.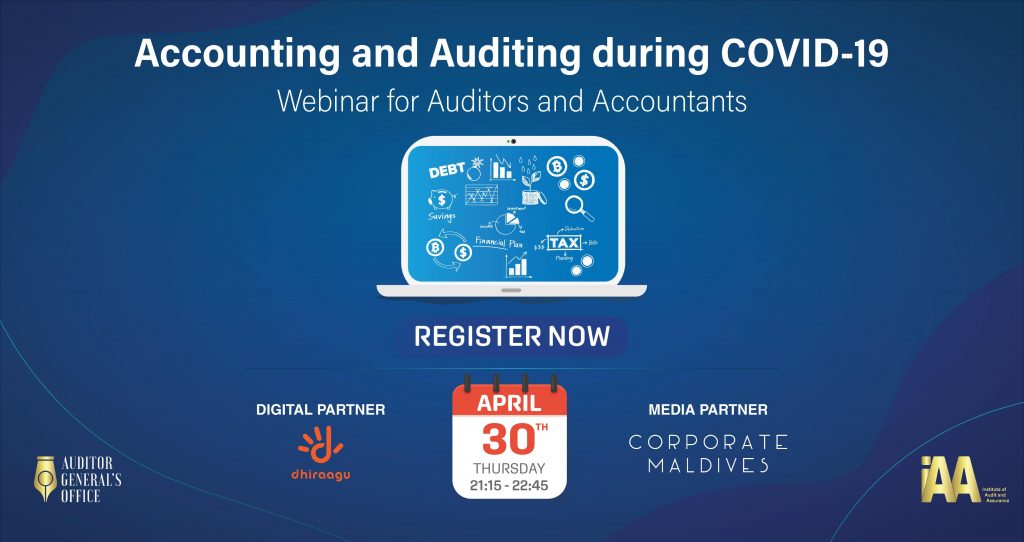 These webinars will be held in the form of panel discussions, sharing expert views on latest trends and global practices. Panellists comprise local and foreign experts on their respective fields.
These webinars are planned to be held on a weekly basis for the following themes:
1. Accounting & Auditing during Covid-19
2. Overcoming challenges; lessons learned
3. Working from home; Embracing Technology
4. Psychosocial support
5. HR best practices during Covid-19
The first webinar of the series was held on 30th April and the details of the panel discussions for each webinar will be shared by AGO on social media platforms. The sessions are open for all with free participation.
The series is held with Dhivehi Raajjeyge Gulhun (Dhiraagu) Plc. as digital media partner and Corporate Maldives as the online news media partner.