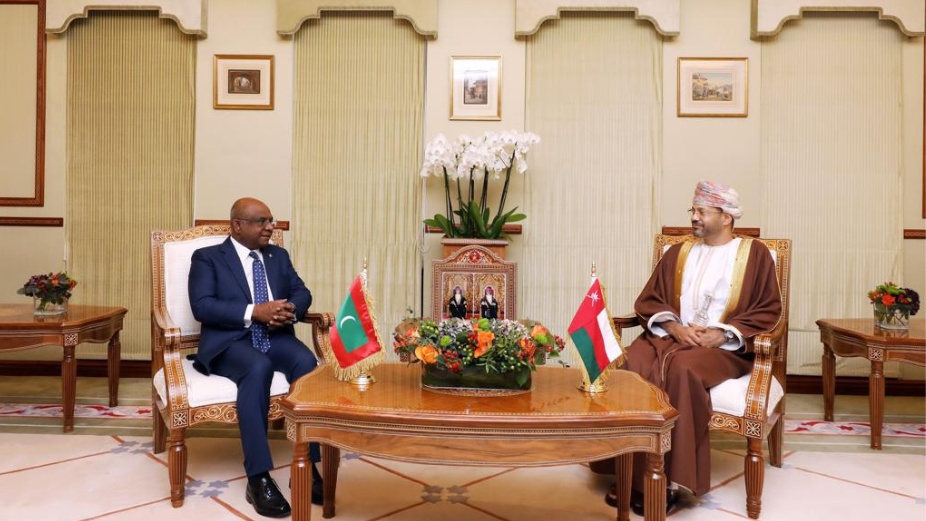 Foreign Minister His Excellency Abdulla Shahid, the Special Envoy of President His Excellency Ibrahim Mohamed Solih has met with the Foreign Minister of the Sultanate of Oman, His Excellency Sayyid Badr Albusaidi.
At the meeting held at Foreign Ministry of Oman, Minister Shahid conveyed greetings and good wishes from President Solih to the leadership and the people of Oman, and handed over a letter from the President addressed to His Majesty Haitham bin Tariq, the Sultan of Oman.
Both Ministers reflected on the close historical relationship between the two countries, rooted in cultural and historical links and shared Islamic values. The Ministers also discussed avenues to further strengthen Maldives – Oman relationship and underscored the importance of promoting people-to-people contact between the two countries. In this regard Ministers discussed means to strengthen cooperation in the fields of tourism, trade, investment and education.
During the meeting, Minister Shahid and Minister Albusaidi reiterated the commitment of both Governments to continue working closely together, bilaterally and in the international fora, on issues of shared importance.
Foreign Minister Shahid was accompanied at the meeting by the Non-Resident Ambassador of the Republic of Maldives to the Sultanate of Oman, His Excellency Mohamed Khaleel and Joint Secretary at the Ministry of Foreign Affairs, Ms. Fathimath Najwa.
Minister lbusaidi was accompanied by Ambassador Khalid Al Muslahi, Head of the Foreign Minister's Office Department and Minister Plenipotentiary Mohammed Alkathiri, Head of West Asia Department and First Secretary Hazaa Alreesi, at the Foreign Minister's Office of Oman.
Diplomatic relations between the Maldives and the Sultanate of Oman were established on 20 February 1981 and this year celebrated the 41st anniversary of the establishment of diplomatic relations between two countries.