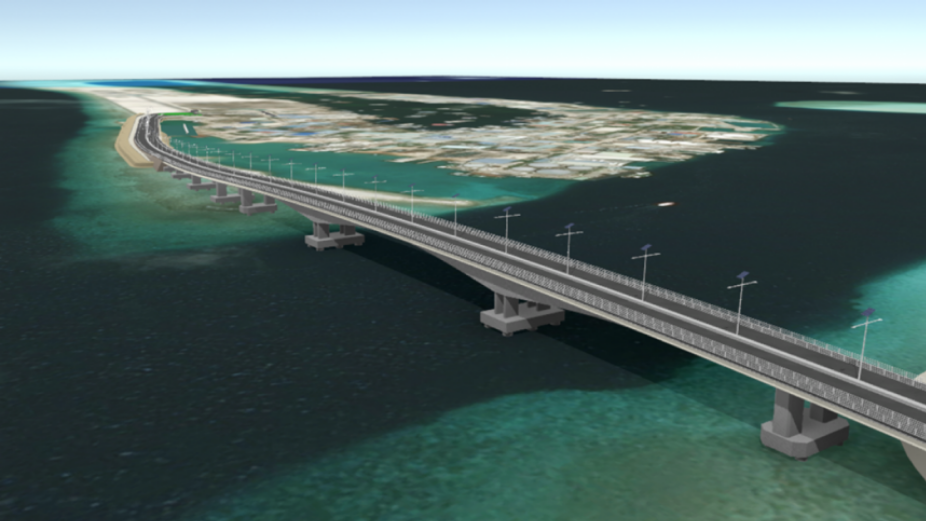 President Ibrahim Mohamed Solih has revealed that the awarding of the Thilamale' Bridge project would hopefully be finalized within the next two weeks. 
Speaking at a press conference held yesterday, the President divulged the latest developments regarding the massive infrastructure development project. He stated that the tender process of the project was complete and the valuation was also now coming to a close.
President Solih stated that he hoped the project would be awarded to a party within the next two weeks after the evaluation is complete. He also said that delays were faced in the project due to the pandemic, including delays in holding meetings with the Exim Bank of India over the project. The project is supported by the bank and an Indian company will be selected for the project. 
The 140-meter navigation bridge will have at-grade roads of 2.96 kilometers and cover over four different islands. In deeper waters, the bridge will have marine viaducts installed of 141 kilometers and 2.32-kilometer marine viaducts installed on land. A signalized junction will be established under the project between the islands of Male' and Villingili. Roundabouts are also to be constructed in Thilafushi and Gulhifalhu, the remaining islands to be connected via the bridge. Each island and junction will have bus stations.
The President also spoke on the international port project to be established in Gulhifalhu, also supported by the Exim Bank of India. He stated that the documents regarding the project were now finalized, and raising finances for the project is underway.