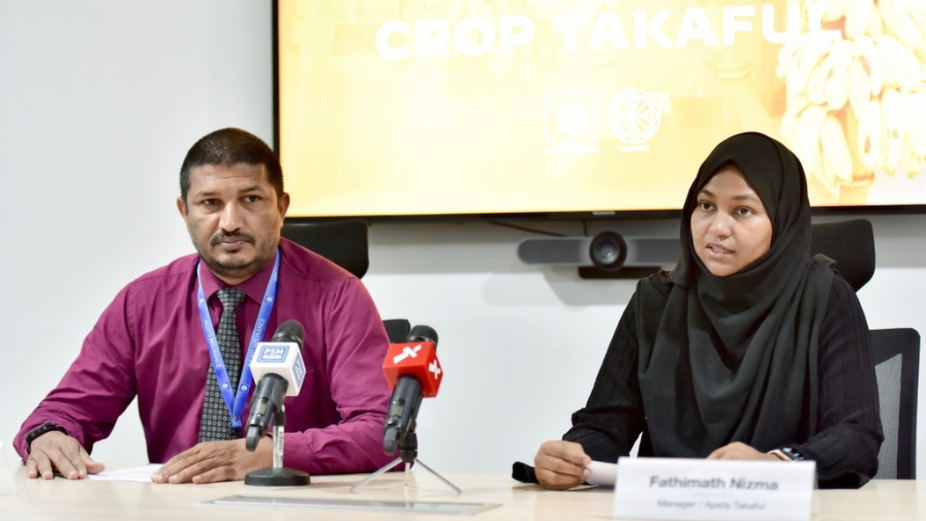 Ayady Takaful, the Islamic Window of Allied Insurance Company, has launched a new service called "Crop Takaful." This service was officially introduced at a press conference held at the headquarters of Allied Insurance, where General Manager Ibrahim Firshan and Ayady Takaful Manager Fathimath Nizma provided information about the product.
Crop Takaful is designed to provide protection and security to farmers, helping them overcome potential income constraints. The service is an online instant service that does not require any documentation to register, and it currently provides coverage for compensation for damage to fields caused by natural disasters. If a farmer experiences such a loss during the plan period, they can submit a photograph of the incident to receive compensation, which includes the costs incurred in cultivating the field and the estimated profit.
Allied Insurance already offers a range of lifestyle-oriented and empowering services, and Crop Takaful is another service designed to reduce the impact of climate change on farmers' income and enhance their quality of life. The company hopes that all of its customers will take advantage of this service, which is available instantly and easily through My Allied. If customers are interested in checking the cost of this service, they can do so via My Allied.
Ayady Takaful provides protection for individuals and companies against financial losses in accordance with the principles of Islamic Shariah Law.