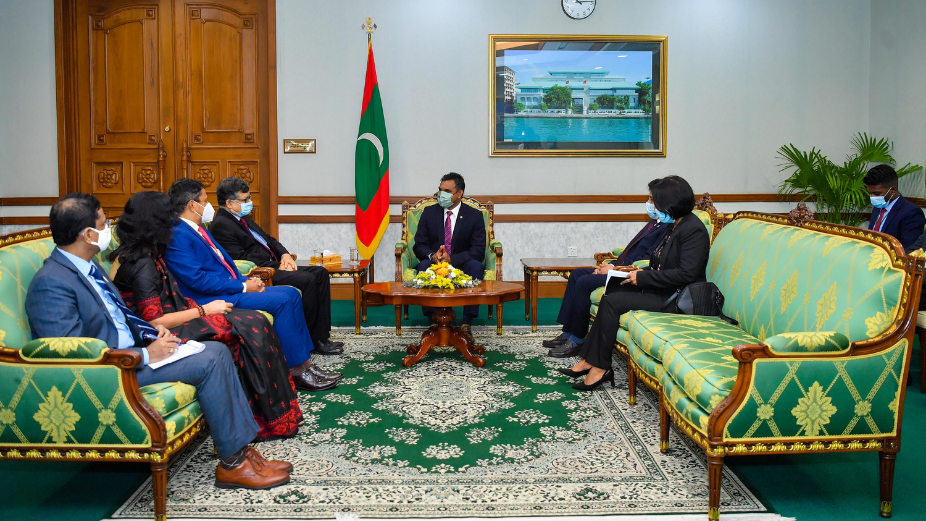 The Bangladeshi Foreign Secretary, H.E. Masud Bin Momen paid a courtesy call on Vice President H.E. Faisal Naseem this morning at the President's Office.
During the call, the Vice President and Foreign Secretary discussed the two countries' close bilateral ties, emphasising that the numerous interactions between the two countries' top officials this year have helped to improve relations.Continuing the conversation, they explored avenues of cooperation between the two nations, ahead of an official visit to the Maldives later this year by the Prime Minister of Bangladesh.
Speaking at the meeting, the Bangladeshi Foreign Secretary conveyed his delight over the opening of the Maldives' borders and restarting the tourism sector following the Covid-19 pandemic. He then admired the Maldives' determination to vaccinate the entire population, regardless of nationality.
Speaking about his recent official visit to Bangladesh, the Vice President noted that seeking solutions to the need for human resources in the health sector had been a key priority of his visit as the need for healthcare staff had considerably increased with the decentralisation efforts of the administration. He then stressed that the government's decentralisation efforts are focused on bringing services closer to the people.
Further items discussed included enhancing regional trade and connectivity, economic cooperation, tourism and agriculture. The Bangladeshi Foreign Secretary extended an invitation to the Maldives to send foreign service staff for training in their newly established Foreign Service Institute. The Maldives' Foreign Secretary, Abdul Ghafoor Mohamed, accepted the invitation, stating that President Ibrahim Mohamed Solih had recently ratified the Maldives Foreign Service Act, which paves way for a Foreign Service Institute to be established under the Ministry.
Ending the call, the Vice President expressed gratitude for the generous hospitality received by the Maldivian delegation during his recent official visit to Bangladesh. Both the Vice President and the Foreign Secretary affirmed their mutual commitment to ensuring that Maldives-Bangladesh relations always remain strong.