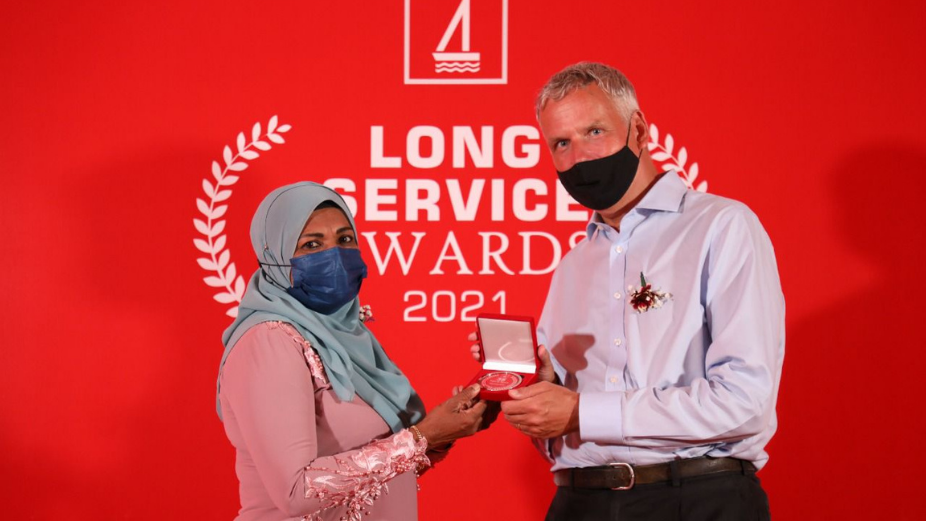 Bank of Maldives has last night held an event to honour the loyalty of its long serving employees and presented awards to staff who have worked in the Bank for 15, 20, 25, 30 and 35 years.
BML CEO and Managing Director Tim Sawyer presented awards to 61 employees at the event held at Manhattan Business Hotel.
Ms. Zulfa Mohamed, Customer Service Manager received a special commendation for having served the Bank for 35 years as well as Ms. Shamsiyya Ibrahim, Head of Customer Processing who has served the Bank for 30 years.
"Tonight, we are proud to celebrate your dedication and commitment to the Bank. Thank you for touching the lives of our customers every day and working so hard with professionalism and commitment to excellence. It is indeed an honour to give due recognition and celebrate your role," said Tim Sawyer, CEO and Managing Director of Bank of Maldives.   
Bank of Maldives is the largest bank and one of the largest employers in the Maldives, with 99% of its staff base being proud Maldivians. The Bank takes great pride in implementing forward looking human resources policies to ensure the highest professional standards of employee recruitment, development and reward. The Bank holds regular events to honor its top performing staff and to recognize their loyal service including Staff Awards and Long Service Awards.