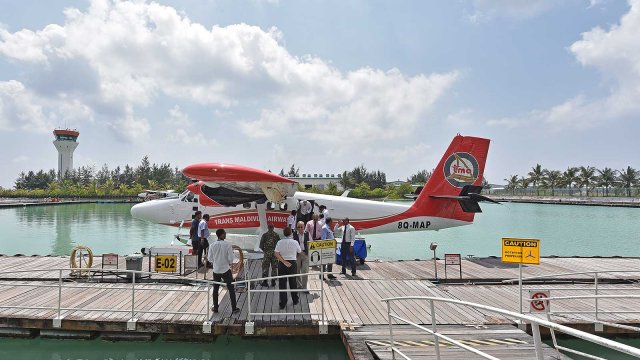 Blackstone Group LP may cash out from the Maldives, the tropical island chain known for its white-sand beaches and turquoise seascapes.
The buyout firm is exploring options for seaplane operator Trans Maldivian Airways Pvt,including a possible sale, after receiving takeover interest in the company, according to people with knowledge of the matter. Blackstone is working with a financial adviser to gauge interest from potential suitors for Trans Maldivian, which carries visitors from the country's international airport to their luxury resorts on other islands, the people said.
A deal could be valued at at least $1 billion, the people said, asking not to be identified because the deliberations are confidential. The company, which owns one of the world's biggest seaplane fleets, has attracted interest from private equity firms as well as strategic buyers, according to the people. No final decisions have been made, and Blackstone may decide to keep the business, the people said.
Blackstone bought control of two seaplane operators in the Indian Ocean archipelago in 2013. Their combined business operates 46 seaplanes with around 120,000 flights annually, according to Trans Maldivian's website. Seaplanes are aircraft with pontoons mounted under the fuselage, allowing them to land on and take off from water.
China's Zongshen Group, a manufacturer of generators and engines, said in March it was seeking to purchase a stake in the biggest seaplane airline in the Maldives. Tourists from mainland China accounted for 25 percent of arrivals in Maldives, making the nation among the biggest contributors to the local economy.
A representative for Blackstone declined to comment.
The Maldives is a group of about 1,190 coral islands located southwest of India. In 2016, the total number of tourists to the islands reached 1.29 million, compared with a population of fewer than 400,000, according to government data.
Source: Newscred