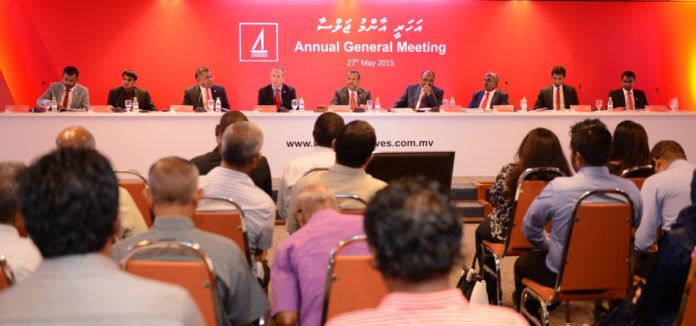 Bank of Maldives (BML) announces vacancies for the post of Directors in their board. The vacancy is open to their public shareholders.
In their announcement made in December 2017, BML states that the application form for the post will be available from 15th January to 22nd February 2018, and they will be accepting the forms during this period as well.
The criteria to apply includes having knowledge in the field of banking, financial services, investment, business or market research. Other qualifications include being of good character, the capability to represent public shareholders, being free from debt and should be between 30 – 70 years of age. BML urges women to apply to the board.
There are 11 directors on BML board, including 8 directors who are appointed by the government and 3 directors from the public shareholders.
The current board of directors include Ms Saeeda Umar as chairperson, Mr Andrew Healy, who is the managing director and CEO of BML, Mr Mohamed Shareef as Deputy CEO, Mr Mohamed Luvaiz, Mr Abdul Haris, Ms Aishath Arsha and Mr Rabih Mohamed.
In addition to this, current 3 directors representing public shareholders are Mr Mohamed Abdul Sattar, Mr Ibrahim Mohamed and Ms Ibthishama Ahmed Saeed.
BML will be electing the new directors in their Annual General Meeting 2018. BML has yet to announce a set date for the meeting.