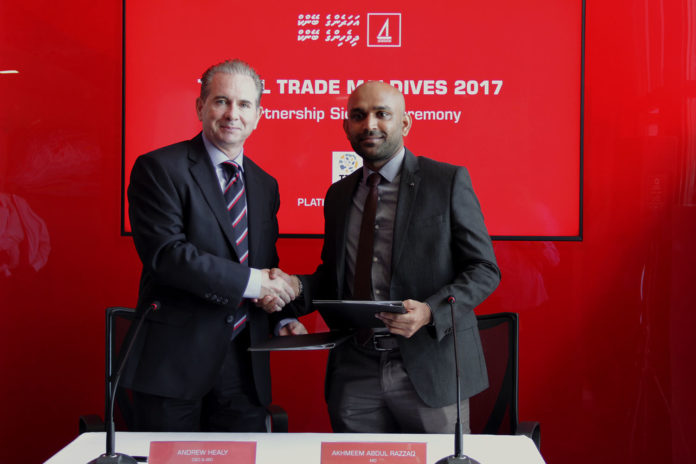 Bank of Maldives today signed an agreement with Maldives Getaways to become their Platinum Partner for the upcoming tourism industry fair, "Travel Trade Maldives 2017" (TTM). The partnership was announced at a ceremony held at the Bank's Head Office this morning.
The TTM fair will be held at Dharubaaruge on 12 -13 July and will connect Maldivian tourism industry stakeholders with a global network of travel agents. Over 300 hoteliers, suppliers and travel professionals from Maldives and abroad will attend the event.
As part of this morning's agreement, BML will also become the Title Partner for "BML Hotelier Summit Maldives 2017", a special forum within TTM, where leading hotel owners and operators will discuss ways to address the challenges faced by the industry today.
Commenting on the sponsorship, BML CEO and Managing Director Andrew Healy said, "We are proud to announce this partnership with Maldives Getaways. The Maldives already enjoys a wonderful international profile and reputation as a top class tourist destination. This fair will help local industry stakeholders to strengthen further their international connections in order to promote the country in even more markets. The tourism industry has of course an ambitious goal of attracting two million tourist arrivals per annum by 2020 and we are delighted to lend our support to the achievement of this goal."
With a nationwide network of 34 branches across all 20 atolls, 86 ATMs, 4,000 Point of Sale merchants, 200 cash agents, 28 Self Service Banking Centres and 5 Dhoni Banking Units, as well as a full suite of Digital and Online Banking Services, Bank of Maldives is committed to supporting individuals, businesses and communities across Maldives.