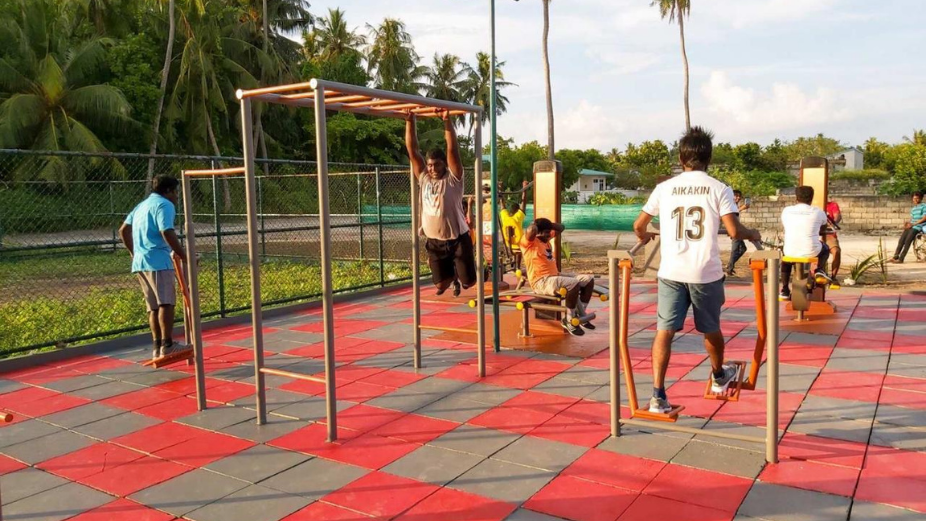 Bank of Maldives has today announced the opening of an outdoor gym dedicated to exercising in H.Dh. Kurinbee as part of its "Aharenge Bank Community Fund'. Community Fund is an initiative focused on empowering individuals to contribute to society by conducting sustainable community projects. The outdoor gym proposal submitted by Adam Shazeem along with the NGO, Kurinbee Youth Movement focuses to promote healthy living and lifestyle. 
The outdoor gym built near the sports area dedicated in the island houses 7 machines, out of which 3 were installed with the support of community fund.
"We ensure that winning projects benefit the community in the long run. With this project benefiting the everyday life and overall health of the people, we are delighted to support the island community. This space will provide opportunities for people of all ages to practice a healthy and active lifestyle. Supporting healthy lifestyle is an important part of the Bank's CSR strategy. Our sincere gratitude and thanks goes to those involved in this project" commented BML's Manger Public Relation, Mohamed Saeed.
Commenting on the project, the winner Adam Shazim stated "Our main aim of this project is to create an environment and empower our community to exercise. The unavailability of a dedicated space for fitness has caused difficulties over the years. Our focus is to support the community to lead a healthy lifestyle and reduce the morbidity of common diseases such as heart disease, diabetics and blood pressure. The outdoor gym will be a great space for the people of our community. My appreciation goes to the individuals and Kurinbee Youth Movement for continuous support throughout".
Community Fund is a program to empower individuals and NGOs to contribute to their communities through sustainable projects. The bank has provided funding for projects in 30 islands across the country under this fund over the last year.