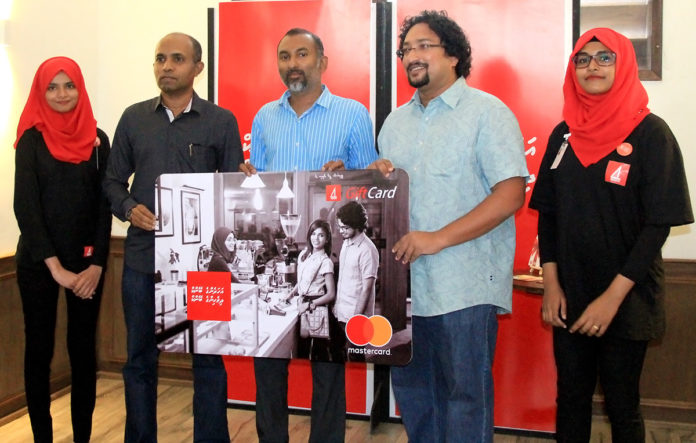 Bank of Maldives has announced that its Gift Cards will go on sale at a wider range of retail outlets from today onwards. The announcement was made at a small ceremony held this evening at one of these outlets, the Civil Coffee Society café in Male'. Guests at the event were presented with a special 'Aharenge Bank' themed Gift Card.
The BML Gift Card, which was launched last year, is pre-loaded with a fixed cash amount and ready to use upon purchase. The Gift Cards, issued in association with MasterCard, are available in denominations of MVR200, MVR300, MVR500, MVR700 and MVR1,000. Customers can use the card for purchases through BML POS terminals, the largest network of POS merchants in the country.
Speaking at the event, BML Deputy CEO and Director of Operations Mohamed Shareef said, "Our gift cards are a thoughtful present for friends and loved ones. They are beautifully designed, and make a great alternative to giving someone a cash gift. I am delighted that they will be available from today onwards at a wide range of retailers."
'Aharenge Bank', is a nationwide campaign that underlines the Bank's commitment to, and bond with, the communities and people of Maldives.
With a nationwide network of 31 branches across all 20 atolls, 78 ATMs, 4,000 Point of Sale merchants, 200 cash agents, 20 Self Service Banking Centres and 5 Dhoni Banking Units, as well as a full suite of Digital and Online Banking Services, Bank of Maldives is committed to supporting individuals, businesses and communities across Maldives.