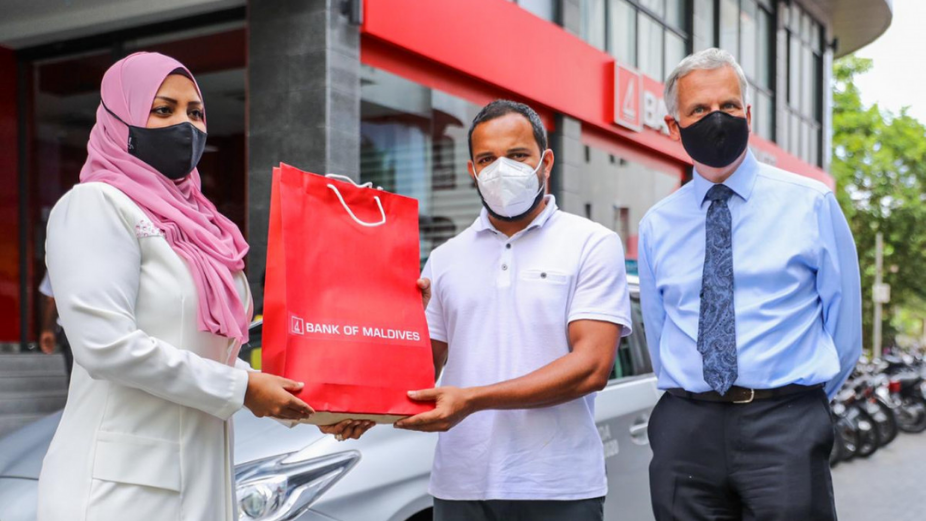 Bank of Maldives (BML) has introduced a cashless payment solution for taxis as part of the Bank's digitalization roadmap and support to implement a cashless society. With this payment solution, drivers can now accept contactless payments from BML MobilePay.
To pay, customers can scan the QR code on the driver's mobile device or displayed in the taxi using BML MobilePay. The cashless payment service is available for taxi drivers with the Bank's mPOS solution, which offers a secure method to accept contactless payments.
The service was launched by Aishath Nahula, Minister of Transport and Civil Aviation in a small ceremony held on Monday. Following the introduction of the service, Minister Nahula and BML's CEO and Managing Director Tim Sawyer donated hand sanitizers and face masks to taxi drivers as essential Personal Protective Equipment (PPE). The bank will be providing a PPE pack to every taxi which registers to the cashless payment service.
BML's CEO and Managing Director, Tim Sawyer commented, "We are pleased to play a leading role in providing the latest technology for payment solutions in the country. This solution enables customers to carry out transactions in an easy, fast and secure manner. During a time when cashless transactions are a way of life, we believe this modern means of payment will be popular with both our customers and taxi drivers. Our support for local community remains strong as we navigate these challenging times together."
BML MobilePay is the Bank's digital wallet app which can be used to pay for purchases anywhere and is available to download on the App Store or Google Play Store. The App connects customers' existing BML issued cards to the digital wallet and is a safe and secure payment method that does not require customers to give out card details.