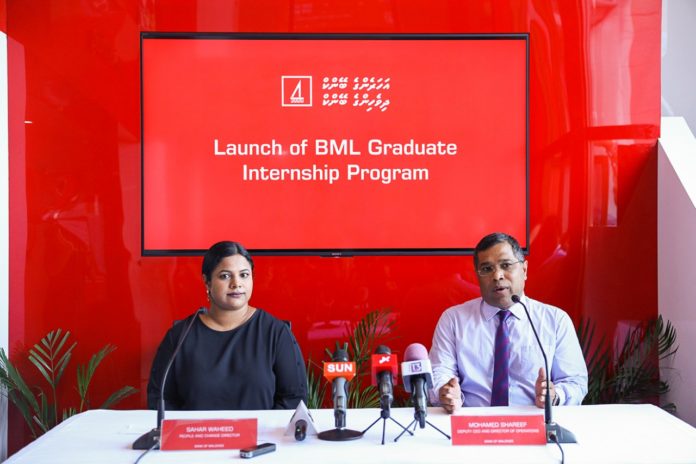 Bank of Maldives has today launched an internship program, allowing top students and graduates from local higher education institutions to gain valuable on the job experience and a pathway to permanent employment with the Bank.
The 12 month internship program is open to students and graduates of all participating colleges in 'BML Prospect', the Bank's partnership with higher education institutions. Interns will be rotated across a number of business units and departments to gain experience and opportunities to develop their skills. Each intern will be allocated a mentor to guide them through their time
at the Bank and upon successfully completing the program, they will be eligible to apply
for full-time positions at the Bank. Further details can be found on the Bank's website www.bankofmaldives.com.mv.
BML People and Change Director, Sahar Waheed commented "We are delighted to launch this internship program for students and graduates of the national university and local colleges. Through this program, we will provide valuable on the job training and mentoring. We look forward to welcoming them to the Bank."
With a nationwide network of 34 branches across all 20 atolls, 34 Self Service Banking Centres, 95 ATMs, 5,000 Point of Sale merchants, 230 agents and a full suite of Digital Banking services, Bank of Maldives is committed to supporting individuals, businesses and communities across Maldives.