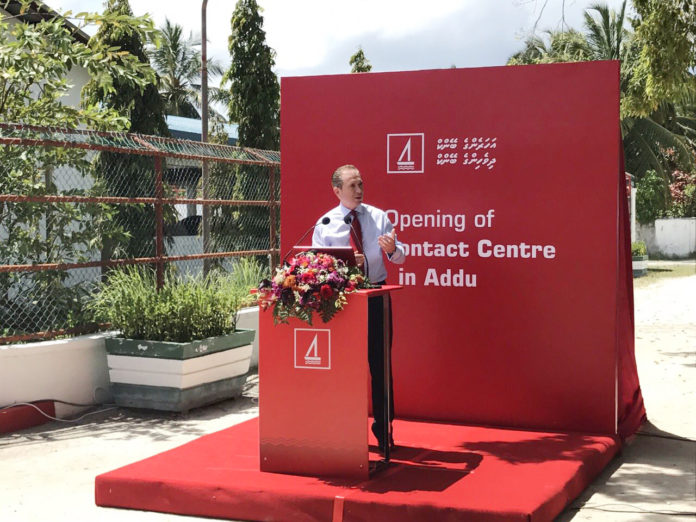 Bank of Maldives today opened an expanded new Contact Centre in Hithadhoo, Addu. The Contact Centre, which was formerly housed in the Bank's branch premises in Hithadhoo, has moved to a new purpose-built facility on the island. The Bank announced that staff resources in the centre will increase significantly in order to meet the high service expectations of its growing customer base.
Addressing staff in the centre, BML CEO Andrew Healy emphasized the critical role they play in supporting customers. "We have more than 270,000 customers in our Bank today, including 20,000 new customers in the past year alone. Customer Service is one of our strategic pillars and we need to keep improving – our customers' expectations of us are very high. While we encourage customers to use our strong online technology including our mobile app, it is important they have the option to engage directly with our staff – through branches, business centres or through our contact centre. We have been making a number of investments to enhance the quality of service we provide and this new contact centre, with its well-trained customer-focused staff, will ensure we give our customers the support they deserve."
With a nationwide network of 31 branches across all 20 atolls, 78 ATMs, 4,000 Point of Sale merchants, 200 cash agents, 20 Self Service Banking Centres and 5 Dhoni Banking Units, as well as a full suite of Digital and Online Banking Services, Bank of Maldives is committed to supporting individuals, businesses and communities across Maldives.