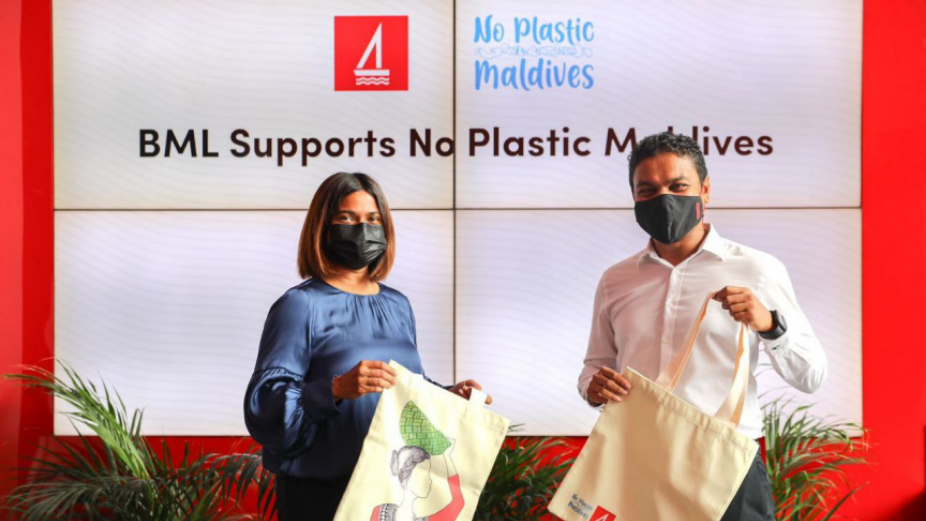 Bank of Maldives (BML) and No Plastic Maldives have partnered up for a special campaign to reduce single-use plastic.
The 'Ulhumah Badhalu' campaign will see the introduction of cloth tote bags at inhabited islands in the Maldives.
During a ceremony held on Saturday, the bag was unveiled by BML's Marketing Director Aishath Zamra and No Plastic Maldives' President Ahmed Nooman.
According to No Plastic Maldives' President Nooman, the purpose of the campaign is to create awareness about ecofriendly alternatives across the island communities. Moreover, it will also create a long-term revenue source for the women living on islands. It was also noted that additional activities will be planned under the campaign in the future.
As part of this campaign, cloth tote bags will be introduced to ten islands in the Maldives: K. Dhiffushi, N. Maafaru, N. Velidhoo, S. Hithadhoo, K. Maafushi, K. Guraidhoo, Dh. Kudahuvadhoo, AA. Rasdhoo, AA. Ukulhas and L. Gan.
BML will be donating two sewing machines to the Women Development Committees (WDCs) of the 10 islands, which will be stitching the cloth tote bags for this campaign. In collaboration with local councils and WDCs a platform will also be created to sell or distribute the bags.
No Plastic Maldives is a non-governmental organization with the aim of reducing single-use plastic across the Maldives.