Bank of Maldives has held an event to honor and celebrate the loyalty of its long-serving employees at Champa Central Hotel where BML's CEO & MD Tim Sawyer presented the awards to staff who have worked in the Bank for 15, 20, 25, 30 and 35 years.
Thirty employees received awards with Ms. Fathimath Rasheeda, Head of Recoveries receiving a special commendation for having served the Bank for 35 years. Other notable awardees included Ms. Amsoodha Naeem (Senior Officer), Ms. Aminath Naseem (Customer Service Deputy Manager), Aishath Sadna (Manager Cheque Processing) and Mr. Abdulla Shameem (Veymandoo Branch Manager) – all of whom have served the Bank for 30 years.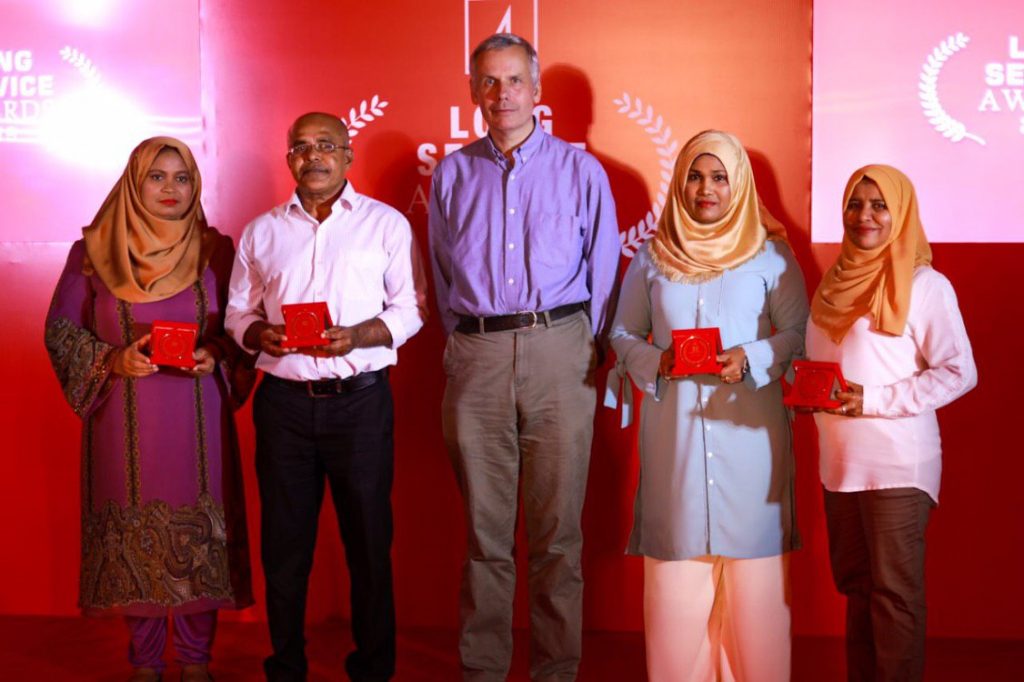 "It is indeed an honor and privilege to give due recognition to the staff who have committed so many years serving the national bank," said Tim Sawyer, CEO and MD of Bank of Maldives. "Bank of Maldives is very proud of its ability to retain dedicated employees and delighted to celebrate these team members. Your dedication underpins the continuing growth of our business and our drive to strengthen the bond with customers and the communities we serve. Thank you."
Bank of Maldives is the largest bank and one of the largest employers in the Maldives, with 99% of its staff base being proud Maldivians. The Bank holds regular events to honor its top-performing staff and to recognize their loyal service. Earlier this year, the Bank received the prestigious 'Asia's Best Employer Brand Award' for its progressive human resource policies for the third year in a row.