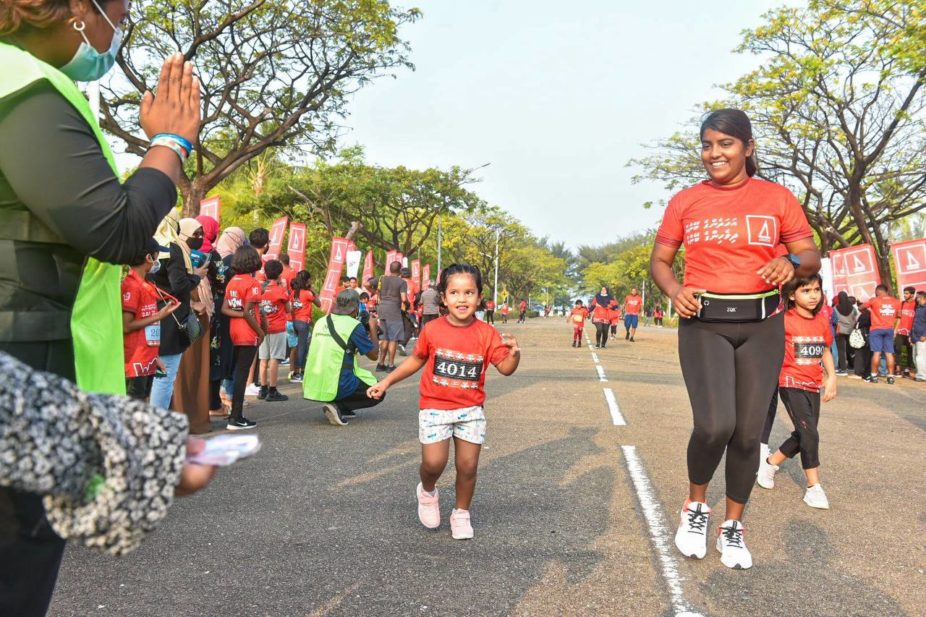 Bank of Maldives in partnership with Total Fitness Group (TFG) has successfully concluded this year's BML Wow Kidz Run.
A total of 900 children of four age categories ran in the event held in Hulhumale' earlier this morning.
BML also donated MVR100,000 to Maldives Association for Persons with Disabilities. The donation was handed over to MAPD by Chairperson of Bank of Maldives, Yooshau Saeed and People and Change Director of BML, Sahar Waheed. MAPD will use the donation to run its 'Healthy PWDs program'. The program focuses for children with disabilities with access to physiotherapy, behavior, speech and occupational therapy.
BML's Deputy CEO, Aishath Noordeen commented "We are pleased with this year's run which we held in collaboration with TfG. The main objective of this run is to emphasize the importance of staying active and healthy, and to encourage children and parents to adopt such lifestyles. The program which we have supported through this run is also a very important for persons with disabilities.
The races ranged from 1.3 kilometer to 4-kilometer runs depending on the age category. All participants who finished the race were handed out medals. BML Wow Kidz Run is very popular among children and their parents.