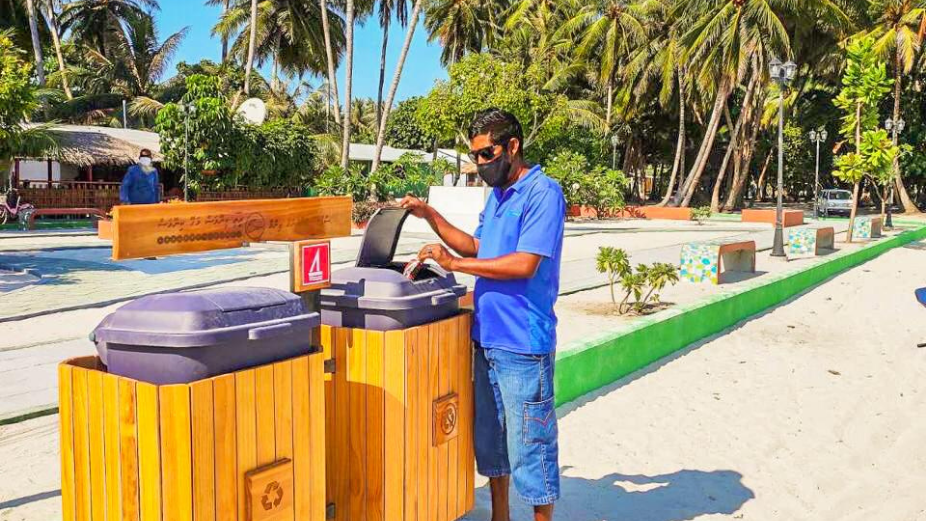 Bank of Maldives has today announced the successful completion of a waste management system project conducted in R. Kinolhas. The project supported by Community Fund is a step towards establishing a well-rounded waste management system and enables to sort, collect and clear waste generated in public spaces.
While this project was submitted by island resident Wafir Ahmed, R. Kinolhas Council had already been managing household waste daily. However, managing the waste generated in public spaces was a challenging task at hand due to the lack of recycle bins in public spaces and the lack of a proper system for sorting waste. The project supported to place bins in five areas of the island for different waste types and has made a difference in managing waste generated in the island.
"Dustbins are placed in harbor area and main public spaces with a proper way to sort and manage the waste. It is convenient to manage waste and has made a difference to the islands overall cleanliness. A huge thanks to everyone who played an important role to assist the completion of this project. My sincere thanks to BML for the opportunity as well. I hope that the community of Kinolhas extends their support to keep the island clean as part of our vision 'Reethi Kinolhas, Magey Kinolhas'
Community Fund is a program to empower individuals and NGOs to contribute to their communities through sustainable projects. The bank has currently opened application for proposal for the first phase of Community Fund until March 6th 2021.