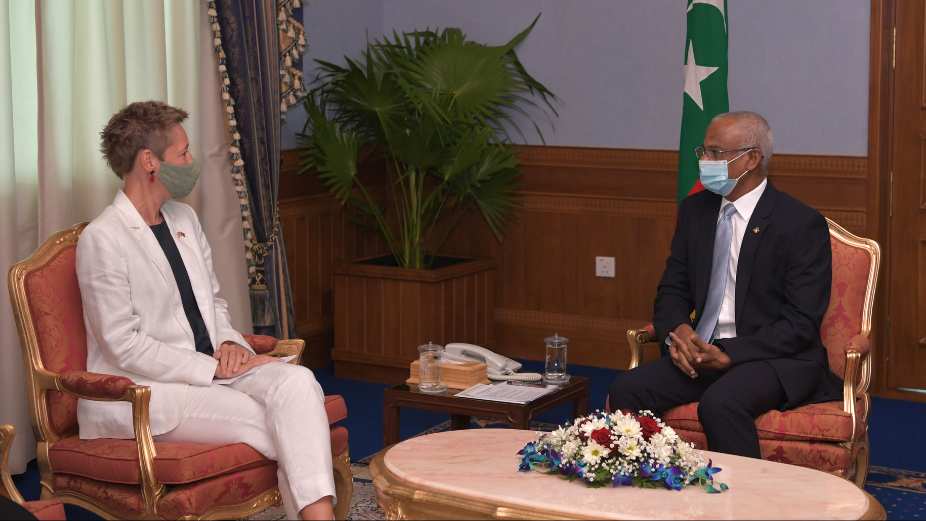 The British High Commissioner to the Maldives Caron Röhsler paid a courtesy visit to President Ibrahim Mohamed Solih today at the President's Office.
The President congratulated the High Commissioner on completing a successful first year heading Britain's resident diplomatic mission to the Maldives, where the two discussed progressing the friendly bilateral relations between the Maldives and the United Kingdom. The President and High Commissioner spoke on a wide range of items, including tourism, bilateral trade, enhancing educational opportunities for Maldivian students wishing to study in the UK, defense cooperation, and climate action.
The High Commissioner presented her credentials on October 30, 2019, to become the U.K's first resident Ambassador to the Maldives. Following the Maldives successfully rejoining the Commonwealth of Nations in early February this year, fulfilling one of this administration's key foreign policy pledges, the British Diplomatic Mission to the Maldives formally became a High Commission, and Ms. Röhsler assumed her current designation as High Commissioner to the Maldives. The President thanked the High Commissioner for her role in expediting the Maldives' efforts to rejoin the Commonwealth through a 'Fast Track' approach.
During the High Commissioner's tenure, the Maldives and Britain have scaled up cooperation on addressing the climate emergency, among other important bilateral issues. President Solih thanked Her Majesty's Government for inviting the Maldives to participate in the 26th UN Climate Change Conference of the Parties (COP26), which the United Kingdom will be hosting, and will provide an important platform to mobilize effective climate action.
The President and High Commissioner also spoke with regard to the ongoing Covid-19 pandemic. The High Commissioner congratulated the Maldives Government on its effective measures to contain the pandemic within the country; and President Solih expressed his hope that the new lockdown announced for England will prove effective in reducing the number of cases in the UK. He expressed his hope that the situation will continue to improve, so that the Maldives can soon welcome more British tourists into the Maldives, making use of the recently announced air-bridge between the Maldives and the United Kingdom, under which travelers to each others' country will not be required to quarantine. The President thanked the UK Government for removing the Maldives from its UK Travel Advisory, easing restrictions for Maldivians wishing to travel to the UK.
In concluding the call, both the President and High Commissioner expressed their mutual interest in further strengthening UK-Maldives relations.