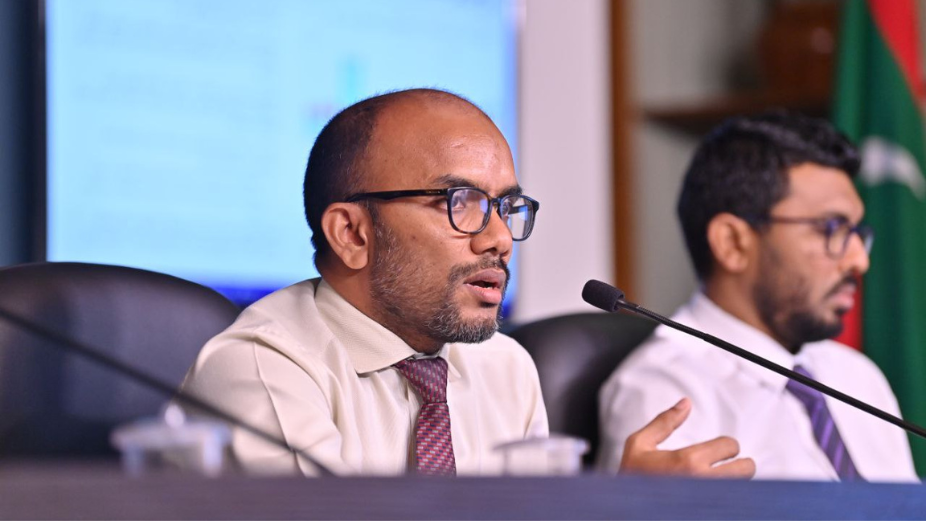 Thursday, Finance Minister Ibrahim Ameer announced that the state budget for 2023 will be MVR 41.5 billion.
Minister Ameer stated during a news conference held in the President's Office that he believes a state budget of MVR 41.5 billion could be presented the next year based on the current fiscal tactics being used. Additionally, he stated that the budget's formulation was currently in progress.
The minister stated that as the budget is still being created, additional adjustments to it are most possible. According to him, the state revenue is anticipated to reach MVR 24.9 billion by the end of this year, and the government's revenue is anticipated to recover to 2019 levels.
"Our objective is to submit a budget consistent with the budgetary strategy. We are aiming for a budget of MVR 41.5 billion. "The budget may be increased or cut after negotiations at the policy level. In 2023, overall revenue will amount to around MVR 307 billion. These numbers will be incorporated into our fiscal policies" Ameer stated.
Ameer predicted that the Maldives' expenditures will exceed MVR 43 billion by the end of the year due to the change in fuel subsidies. Due to the rise in fuel prices, the expected fuel subsidy has grown by a factor of six, he noted.
The total budget for this year is MVR 37 billion. This year, the government is predicted to receive MVR 24.3 billion in revenue, compared to MVR 34.1 billion in expenditures. As a result of this year's lower-than-anticipated revenues, the total debt will be greater than the amount recorded in the budget book. MIRA, the national tax agency, collected MVR 16.6 billion in revenue by the end of September.
Ameer remarked that despite the fact that the Maldivian economy is developing, we must adapt to the changing circumstances. As the number of tourists who visited the Maldives in 2022 was comparable to pre-pandemic levels, he expects the country will reach its goal of receiving 1.6 million tourists this year.