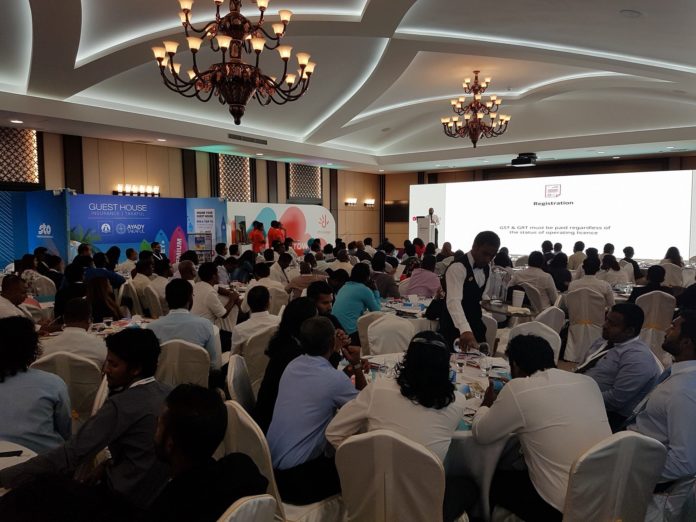 Paradise Island Resort received the South Asian Travel Award (SATA) for the 'Best Convention Center for Meetings & Conferences' for their brand new Burunu Convention Centre which opened recently.
The awards night which was held on the night of 28 October at Addu, Equator Village, Villa Hotels & Resorts also received the 'Leading Wellness and Spa Award' for 'Araamu Spa' which is a brand owned by the company. This is the second year the renowned brand has been nominated for the SATA award for the 'Leading Wellness and Spa Award'.
The modernly styled convention centre was opened on September 7, 2017. The hall has a capacity of 500 guests for theatre style and 200 guests for banquet style seating. The second edition of Dhiraagu Guesthouses Maldives Conference 2017 was held at the Burunu Convention Centre in Paradise Island Resort and Spa on September 23, 2017
'Araamu Spa' which was nominated among other well-known leading wellness & spa brands operates on a number of Villa properties in Maldives including Fun Island Resort and Paradise Island Resort.
More than 400 companies were nominated for different categories for the SATA awards while Maldives received 18 awards this year at the awards night.
Some of the highlighted awards were, 'The Leading Surf Hotel award' which was given to Cinnamon Dhonveli Resort formerly known as Chaaya Reef Ellaidhoo. 'The Leading Airport Hotel' was given to Hulhule' Island Resort (HIH). Maldives' Lux Resorts was nominated for 'The Leading All-Inclusive & Hotel and Resorts' award. And Voyages Maldives was nominated for 'The Leading Travel Agency' award.
Other hotel & resorts chains from Srilanka, India and Bhutan were nominated and received a number of awards in the South Asian Travel Award (SATA) awards night.