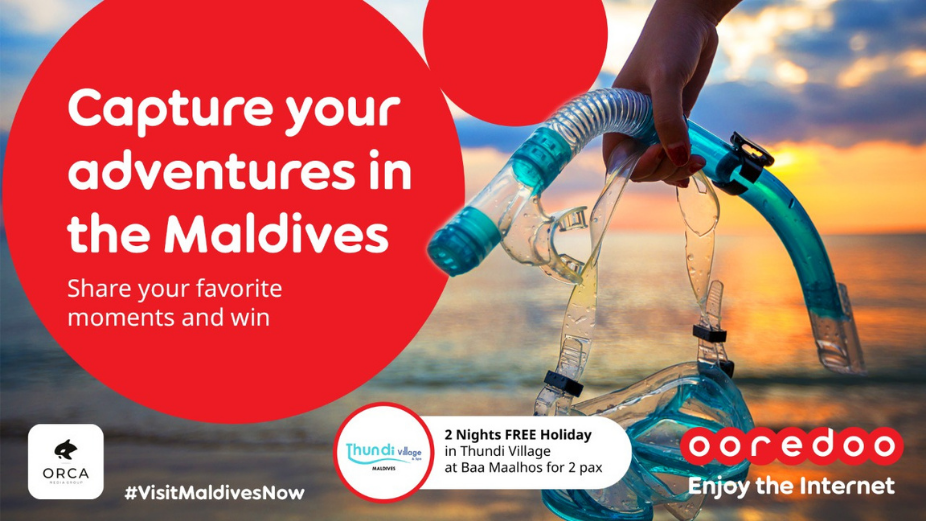 This month, as part of the #VisitMaldivesNow social media contest carried out by Ooredoo Maldives and Orca Media Group, participants can share photos of their adventures in the Maldives and stand a chance to win a free local island stay.
The given theme for this month centers around the thrilling adventures in the Maldives. The winner will receive a 2-nights FREE holiday at Thundi Village, B. Maalhos for two people.
In September 2021, Ooredoo Maldives together with Maldives Marketing and Public Relations Corporation (MMPRC), Tourism Ministry and Orca Media Group, launched a destination marketing campaign "Visit Maldives Now" reaching its international network of over 117 million people across 10 countries. This is the final giveaway in conjunction with this destination marketing campaign.
The deadline for participation in this contest is 14th February 2022.
As part of this destination marketing campaign, Ooredoo Maldives and Orca Media Group launched a social media contest inviting everyone to share their favourite parts of the Maldives with the world & win fun stays at guesthouses to boost destination visibility and encourage the world to #VisitMaldivesNow. Participants can enter by sharing photos or videos from across the country that reflect the given theme of the month, along with the hashtag #VisitMaldivesNow.
The main aim of the #VisitMaldivesNow social media campaign is to create awareness and showcase the hidden beauty of our island nation, creating user-generated content that will enable prospective travelers to view Maldives through the lens of a local.
Thundi Village at B. Maalhos is a modern boutique beach front guesthouse with a total of 18 rooms, a restaurant, dive school and a spa. It is also located near to Hanifaru Bay in B. Atoll. Almost all the rooms are with balcony and have a sea view.
To find out more, keep up with Ooredoo Maldives on its social media platforms.